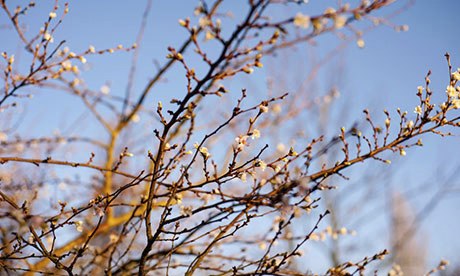 In bloom: winter-flowering cherry Prunus x subhirtella 'Autumnalis Rosea' Photograph: Tom Hoblyn
Here we are in mid December and still among the embers of what has been a reassuringly long and wonderful autumn. Walking the dogs in the morning, I see swamp cypress (Taxodium distichum) and a sweet gum (Liquidambar styraciflua) still hanging in there, gradually fading into the background, making way for the next pedlars of colour: pollarded Salix. Curiously, on the far side of the pond, winter-flowering cherry Prunus x subhirtella 'Autumnalis Rosea' is already in full swing.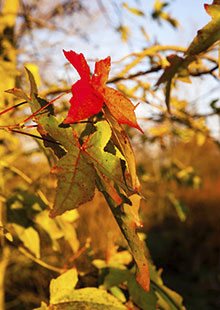 Sweet gum (Liquidambar styraciflua). Photograph: Tom Hoblyn


The wetland meadow was finally cut for hay at the right time of year owing to a dry-ish July, giving us plenty of hay for the sheep this winter. Not that we've had to use any yet, as there is still ample grazing. In previous years, it has been too wet to cut, a delight to the thistles and detriment to the orchids and ragged robin. So I hope species diversity will be restored next spring. The resulting post-cut second flush of meadow has coloured up beautifully, best viewed in the low light as we approach winter solstice.
It has also been what's called a mast year: a natural phenomenon that produces a bumper crop of nuts, berries and fruit. I cannot recall such abundance of hips and haws in the garden, explaining the lack of feathery visits to the feeders. Never have we had such bounteous supplies of produce from the vegetable garden either, the most prolific being fruit. Pears have always been a dismal failure, succumbing to pear scab, brown rot and blossom wilt, but this year the large unblemished fruit could have graced any show bench. Bitter pit seemed less widespread among the apples, allowing for high yields: the dual purpose 'Newton Wonder' will definitely feature on the Christmas table. All this natural harvest can't help but make me wonder whether we are in for a hideous winter.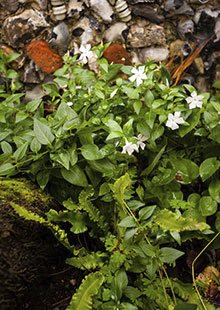 Intermediate periwinkle Vinca difformis – Tom's plant of the year. Photograph: Tom Hoblyn


Ornamentals have done well in these parts too. My mini collection of maples has got a bit out of hand: once a solitary silver maple (Acer saccharinum) planted in memorial, it is now verging on arboretum status. This winter, I plan to start planting natural associates of the maple and have my eye on several Betula species in the Thornhayes Nursery catalogue. Despite the neutral soil, the borderline alkaline-tolerant rhododendrons that grow beneath the maples have thrived, especially: R. augustinii, hirsutum and sanguineum ssp. didymium. However, the deer have had a go at them, so they are still clad in green netting and will be for some time. Outside my office, we have a north-facing courtyard garden, part-experimental trial grounds and part-fernery. Normally I would wrap up the tree ferns for the winter, but after a visit to mail order fern specialists Fernatix, I haven't bothered. The tree ferns are well established and wrapping can be problematic, either causing rot within the crown, or in my case, keeping them too dry over winter. As ground cover among the ferns is my plant of the year: intermediate periwinkle (Vinca difformis). I cannot remember a time this year when it has not been in flower – what a performer.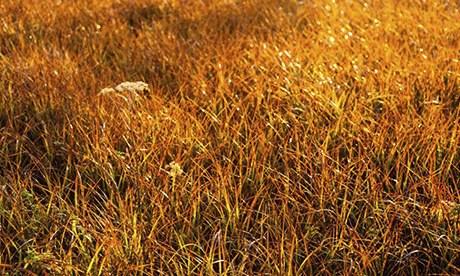 The wetland meadow viewed in the low December light. Photograph: Tom Hoblyn


As for work, it's rather mirrored Mother Nature's recent behaviour. At the beginning of the recession, I was cockily upbeat, with copious amounts of work, much of it involving very large restoration projects, too advanced to be affected by the financial climate. Most of these have now come to an end and the tail end of the year has been worryingly quiet. This was exacerbated by lack of prospective efforts on my part, due to having too much work in the first place. The quieter time has been put to good use though, the most exciting being the writing of a book due next autumn. This is proving an enjoyable experience forcing me to question and examine knowledge gleaned over the years. Then just as I was starting to expect a bleak midwinter workwise, we have been confirmed on a large and exciting project. Here's wishing everyone a prosperous New Year.

• Thomas Hoblyn is a landscape and garden designer. This is the latest in a series of posts on the ups and downs of a life spent creating beautiful gardens.