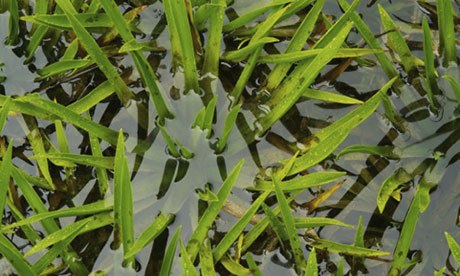 Water soldier (Stratiotes aliodes) is one of the dominant species taking over the pond. Photograph: Tom Hoblyn
I attended the first autumn forum at Orchard Dene Nurseries and hope it becomes a regular event. The reason? Us garden designers are all stuck in our studios around the country beavering away at the drawing board without acknowledging the danger of becoming blinkered. Events like this are essential to fan creative thought and encourage us to see our role in the bigger horticultural picture.
Professionals representing key horticultural disciplines headed the evening, promoting debate on the state of our industry today; where is it heading and what's new? Now this is often an excuse for a massive whinge but it was in fact, a highly positive occasion and we all left focussed and enthused.
Flagged as most worrying was the lack of people entering the gardening industry in the first place. Head gardeners Simon Bagnall at Worcester College and Tim Marshall of Culham Court (and I urge you to visit these gardens at the very next opportunity – I certainly will) lamented the shortage of young people wanting to work outside, deeming it unglamorous and poorly paid. I suppose this is true; people today are drawn to seemingly more exciting and easier ways to make ends meet.
After all, gardening has yet to undergo the glamorising makeover that has hit other reality shows. Until Made in Chelsea Flower Show or Meet the Kardashians' Gardener hits our screens, there's little to convince young teens that the garden is anything other than cold and muddy.
But I believe there's hope, in that people naturally migrate back to gardening later on in life. From a personal view, I'm not sure my younger children even know where the garden is, yet the eldest is always keen to take armfuls of home-grown veggies back to uni and is highly complimentary about the taste over what he can afford at the supermarket – it's only a matter of time.
Contractor Mark Gillard, director of the Creative Landscape Company raised an interesting point that many garden designers have a limited understanding in the construction of gardens, due to lack experience and training. His solution was that all designers should work for landscape contractors for 12 months before being set free to design. I couldn't agree more and would add: what about a year working as a gardener too? What a great college course that would be: three years of theory and two years in the field.
Finally our hosts, nursery owners and plantspeople: Chris and Toby Marchant, stressed the importance of exploring new planting possibilities, claiming many designers rely on tried-and-tested planting palettes when there are so many plants available. This hit a nerve: our experimental patch (AKA the garden) has become very homogenous recently due to an "if it ain't broke …" approach. I suppose during the Chelsea year, all plant exploration is focussed on a few short months. Transplanted into real life, there is a need for exciting new combinations that perform all year round.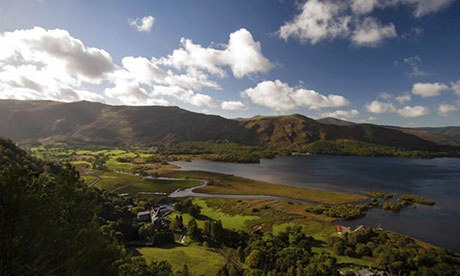 Aquatic plants at Derwent Water in the Lake District provide inspiration for new plantings. Photograph: Tom Hoblyn


Riffling through my notebooks, I compiled a list of all the plants that had given reason to be recorded. The list is far too big to address in one hit, but marginal aquatics had recently trended, owing to a visit to the Lake District. The River Derwent bleeds into Derwent Water in a graceful serpentine fashion caused by eons of alluvial deposit. Colonising these fertile and silty deposits are fen-like rafts of reeds and rushes, mostly Phalaris arundinacea (reed canarygrass) and Deschampsia cespitosa (tufted hair grass). Cohabiting are various true flowers such as Filipendula ulmaria, Valeriana officinalis, Iris pseudacorus and Angelica sylvestris. The vertical formality of the reeds and sword-like irises are beautifully contrasted by the umbelliferous angelica and valerian, yet becalmed by the fluffy meadowsweet and grassy seed heads. I wish I had been there on a calm day to witness the reflections. This is a combination to imitate, and plants and seed have been ordered accordingly.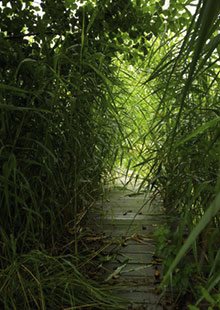 Phragmites australis flanks the boardwalk. Photograph: Tom Hoblyn


Our pond is a mass of Phragmites australis (Norfolk reed) and Stratiotes aliodes (water soldier). Alnus glutinosa (alder) has colonised the area to plague proportions, leaving little light or room for much else. The weekend was spent in waders, coppicing some of the alders and reducing dominant species, leaving me with plenty of pockets to plant the Cumbrian combo in the spring. As the sun went down, a child appeared waving frantically for me to stop the chainsaw. I assumed that the telly remote must have run out of batteries, but no, it was to give me a cup of tea and enquire what I was doing.

• Thomas Hoblyn is a landscape and garden designer. This is the latest in a series of posts on the ups and downs of a life spent creating beautiful gardens.