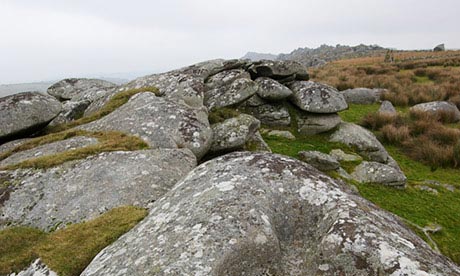 Granite boulders on Bodmin Moor. Photograph: Tom Hoblyn
Sunday
Drove down to Cornwall for a few days; part business, part recreational. Typically, on crossing the River Tamar, it began to rain (and continued pretty much all week).
Monday
I have clients in Oxfordshire who spend a month each year in Cornwall and wish me to design a Cornish element in their garden. Today I am meeting them on Bodmin Moor to choose some granite.
The Cornish Landscaping Granite Company is a wonderful exercise in farm diversification. Their farm is littered with boulders, each one sculpted by the elements over thousands of years. As landscapers, designers and architects buy them, so the farm gains more grass for grazing.
What we are looking for is a shapely boulder to use as a kind of sculptural focal point and bird bath to sit on a lawn. They have young children so it is likely to be used as a climbing frame too. At the summit of the nearby Trewortha Tor is King Arthur's Bed: an eroded series of bowls resembling a body in the foetal position. Legend has it that this was where King Arthur slept – in great discomfort, I imagine. I want to find a tor-like slab into which we can carve a bowl, but one that is also low and child-friendly. It didn't take too long; John Mainwaring (one of the owners) had sought out some possibilities previously.
Interestingly, my client spied a smaller partner boulder to be used in a kind of Zen mother/daughter way, which was a fantastic idea. We also found a seat-like boulder that will be placed to enjoy the magnificent view at their Oxfordshire home.
Tuesday
I went back up to the farm to determine the size of bowl to be carved into the rock. By the time I had got there, Graham and John (the owners) had carefully lifted the stones and had them in the yard. The boulders are well colonised with various mosses, lichens and sedum that I am keen to preserve if possible. I suspect the drier climate of their new home may not help though.
With the bowl size marked out in chalk, Graham began cutting immediately. There is pressure from the contractors to get the stone up to site quickly while they still have hired machinery capable of moving three tonnes of granite about.
Wednesday
A quick visit back up to the farm to see the finished bowl – it was perfect.
Thursday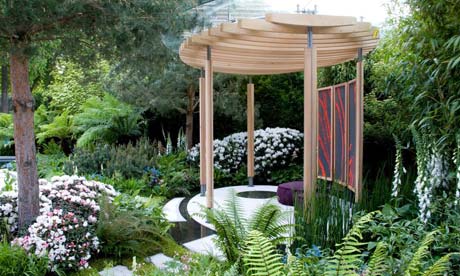 Thomas Hoblyn's 2011 Chelsea show garden, which has now been relocated to the Eden Project in Cornwall. Photograph: Rex Richardson/Alamy/Alamy


Back in 2011, my Chelsea flower show garden was relocated to a permanent home at the Eden Project owing to its Cornish themes and planting. My then-sponsors Homebase kindly made this happen and now it sits snugly amongst the biomes.
Tonight I am giving a talk about the garden's journey to the Friends of Eden – a very relaxed affair with lots of plant-related discussion. I was able to have a good look at the garden and it has really blossomed. The tree ferns were in full frond and some wonderful Aralia provides an excellent backdrop to the pool. Sure enough, some children were paddling in the streams just as was always intended.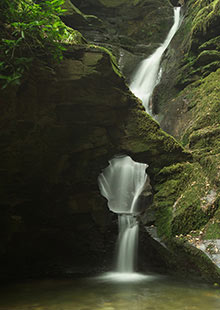 St Nectan's Glen waterfall near Tintagel, Cornwall. Photograph: Tom Hoblyn


Friday
Couldn't resist an invitation to see The Taming of the Shrew at the open air Minack Theatre. I truly recommend a visit for the sheer magnificence of the place alone: an amphitheatre carved into the granite cliffs above Porthcurno surrounded by the sea. Someone has been very clever with the exotic planting with various succulents such as Aloe and Crassula colonise every nook and cranny in the rocks. A beautiful stand of Leucadendron argenteum flank the entrance, underplanted with Aeonium and Limonium.
It heaved it down with rain but the play and scenery helped distract us from the elements – even the gannets put on a great diving show during the interval.
Saturday
The drive back up to Suffolk from the south-west tip of Cornwall is a long one, worsened by the extra traffic created by the traditional changeover day for cottage rentals.
I started early and stopped at St Nectan's Glen near Tintagel for breakfast and quick peek at the amazing waterfall, which I had to myself at that time of day.
Monday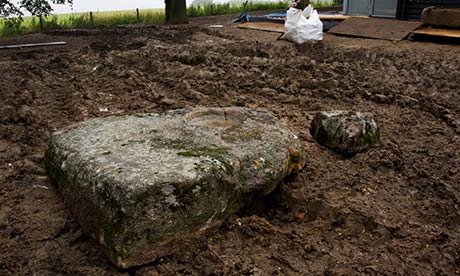 The granite boulders in their new home in Oxfordshire. Photograph: Tom Hoblyn


The granite boulders arrived safe and sound in Oxfordshire and I was back on site (still raining) to assist in the positioning for best effect. Adept machinery handling by our contractors Creative Landscapes made the process extremely easy. Within a couple of hours we had them placed ready to be partially submerged into the soil and turf as though they had been there for years. The rain may actually help.

• Thomas Hoblyn is a landscape and garden designer. This is the latest in a series of posts on the ups and downs of a life spent creating beautiful gardens.