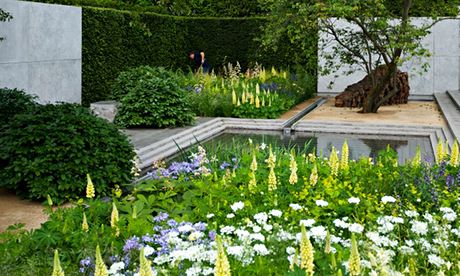 Yellow lupins and Orlaya grandiflora in the Laurent-Perrier garden, which won best in show. Photograph: Thomas Hoblyn
Coming up with new and exciting plant combinations is always a challenge at Chelsea, not least because of the finite palette to draw from. The third week of May can be tricky: in a normal year, the spring bulb season is all but over and grasses have barely got going. Yes, there are all sorts of trickery one can pull to con the poor flower, but let's face it, it isn't going to be a happy plant and that could put your scheme at unnecessary risk.
I remember one Chelsea I desperately wanted pots of tulips. The nursery dutifully put the budded bulbs into cold storage in March and presented me with perfect specimens on the last planting day of the Chelsea build up. Imagine the tulips' dismay when they realised it was the end of May. They promptly and frantically tried to complete their life cycle before my very eyes.
As a designer, you will have predicted your palette many months ago in your submitted brief, to which you are now held accountable as part of the judging process. The judges are on the lookout for innovative schemes, but so many have been aired before it creates a constant need to conjure up new, rabbit-out-of-hat displays. Remember though, designers also want to get work from their exhibit: playing safe with bearded irises and peonies planted en masse may reduce your medal ranking, but almost guarantees post-show commissions.
Trends and fashion play a role too. In recent years, sculpted topiary has been de rigeur, possibly instigated by Tom Stuart-Smith. First it was in the form of box (Buxus sempervirens), and then ever-changing manifestations each year – species such as Ilex crenata – as boundaries were pushed to exhaustion.
On the train down to the show grounds on press day, it was the planting combinations I was most keen to see. I confess I did sort of know what to expect as I have been helping Gaze Burvill this year in their efforts to make their exhibit less stand-y and more garden-y – something that's been enormous fun and kept me vaguely aware of interesting plants appearing on the trolleys.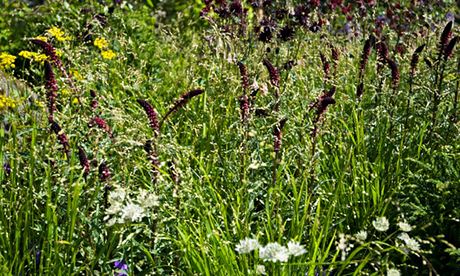 Melica uniflora var. albida and Lysmachia atropurpurea 'Beaujolais'. Photograph: Thomas Hoblyn


Melica uniflora var. albida was definitely the grass of choice this year. Grass choices are always limited for Chelsea, but the kind spring allowed for well-developed plants and show stalwart Deschampsia cespitosa was nowhere to be seen. Melica is a stunning plant: backlight will silhouette the rice grain-like panicles, yet make the lime green foliage glow, with water droplets clinging to the seeds adding to its beauty. I think it looks best planted in great drifts, as it has been in the Brewin Dolphin garden. Designer Matthew Childs planted it with several combinations, possibly the most pleasing with a white Astrantia major.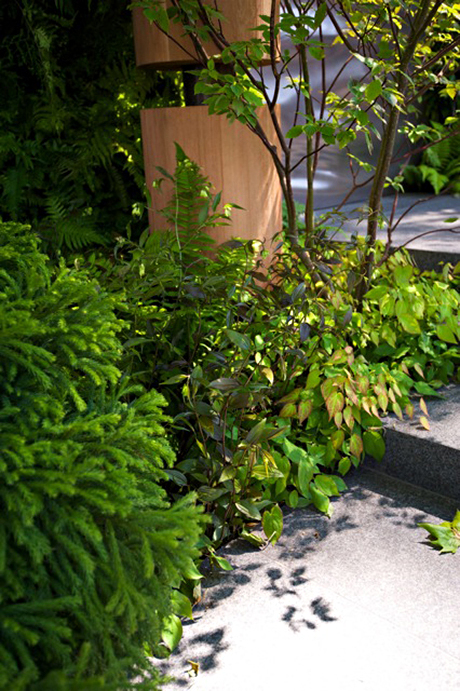 Disporum cantoniense 'Night Heron' in Matthew Childs' Chelsea show garden. Photograph: Thomas Hoblyn


At the front of the garden, he uses it amongst Thalictrum delavayi, which was also a pleasure. Tucked at the back beneath the fern wall was a lovely little drift of another favourite: Disporum cantoniense 'Night Heron', underplanted with some epimedium. (Though I confess to being slightly miffed as the disporum was one I was keeping under my hat for future Chelsea use.)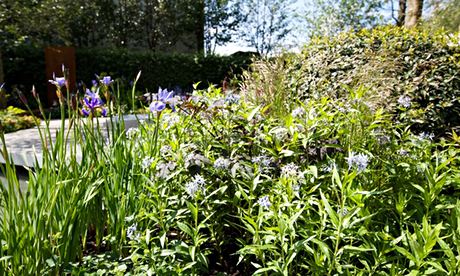 Amsomia tabernaemontana in Hugo Bugg's Royal Bank of Canada garden. Photograph: Thomas Hoblyn


Lysmachia atropurpurea 'Beaujolais' was also in abundance at Chelsea and we haven't seen this beauty for a few years. Beaujolais really is its colour – a strong wine red – but it has metallic glaucous foliage, making it tricksy for harmonious combos. It can also be a bit of a swine in the vertical department, going all curly-wurly at the slightest upset. Hugo Bugg used it most effectively alongside the powdery blue Amsomia tabernaemontana in the Royal Bank of Canada garden, craftily working in some claret cirsium to take the heat off the lysmachia.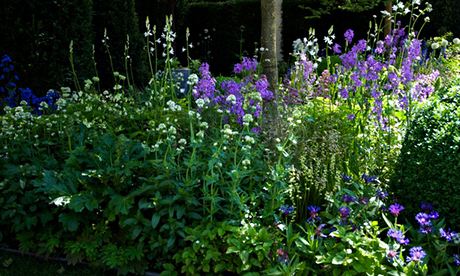 Centaurea montana 'Album' and Camassia leichtlinii semi-plena in Cleve West's show garden. Photograph: Thomas Hoblyn


Strong blues featured in a couple of gardens, mainly in the form of Anchusa azurea. I've always had difficulty with this plant, as the blue flowers are regal yet the foliage is coarse, making it hard to work out whether it should be used formally or au naturel. Cleve West uses it to great effect in his naturalist scheme among Camassia leichtlinii semi-plena and Centaurea Montana 'Album'. Meanwhile in the Telegraph Garden, Tomasso del Buono used it formally among bearded irises and fennel – just goes to show that it works both ways.
But possibly one of the most daring colour palettes was Luciano Giubbilei's spectacular use of yellow lupins in the Laurent-Perrier garden. Milium effuseum, trifolium and a large drift of Orlaya grandiflora tied everything up rather nicely. As the sun's rays lengthened in the afternoon, it seemed to up light the canopy of the huge Amelanchier lamarckii. This garden, in my opinion, was the rightful winner of best in show.
• Thomas Hoblyn is a landscape and garden designer. This is the latest in a series of posts on the ups and downs of a life spent creating beautiful gardens.