Monday to Friday
We are amid a creative bonanza at the moment with three projects at the "conceptual stage". Always the fun bit, where we've done site analysis and had the brief agreed; it is now design time.
Sitting at a round table in the studio armed with rolls of canary yellow tracing paper, Ros, Daisy and I scribble and argue. The brief and site analysis can cause further conflict. For example, we have a beautiful country house on the edge of the Peak District, set high up in a steep valley overlooking dry-stone walled fields with a lake below. Research reveals the area was once famous for its glassmakers and potters, two things that would be interesting to explore. It would be almost criminal not to use the wonderful local gritstone, yet the brief is for an Italianate garden. Another project is in the UAE and the client wants an English garden. This is why the conceptual stage is so exciting: trying to find a solution to satisfy the brief, acknowledge the location yet still be creatively stimulating.
Post scribbling, each of us tends to have a preferred method to develop the idea into perspective – basically to see if the idea will work visually. Ros likes the 3D modelling software Sketch Up as it is quick – when I say quick, it's quick for her and genius she is with it too. I find it a bit unsatisfactory for terrain modelling, though and this is where Daisy's preferred method proves useful in the form of another 3D modelling package called Rhino 3D, sculpturally very satisfying. Unfortunately it is not very Mac-friendly, with only a beta version available. I'm afraid my method is the least technological: clay. I always feel the need to manually develop an idea, though scale and precision is not easy to achieve. But somehow, working up the idea by hand can help enormously. Not very technological but it's still digital.
Lately we have been combining all three methods: I present a very crude idea in clay, that is then digitally and accurately interpreted in Rhino 3D, with the linear elements superimposed using Sketch Up. Visually the finished models can look somewhat cartoonish and not necessarily to client presentation standard, but it does establish whether the scheme will work or not.
The process can take days, much of the time – quite literally – going back to the drawing board. But once there is an inkling that an idea may actually work, a kind of energy seems to grip us all, tiredness and frustration instantly disappear and enthusiasm once more returns.
As Friday approaches little gems emerge. Discoveries like: common myrtle (Myrtus communis) grows very well in the UAE and is readily available as hedge and topiary; an Italianate gritstone garden in the Peak District is not bonkers – just think of the Cascade garden at Chatsworth. These spur us on to produce some workable ideas, still many days away from an actual presentable design, but already very satisfying.
Weekend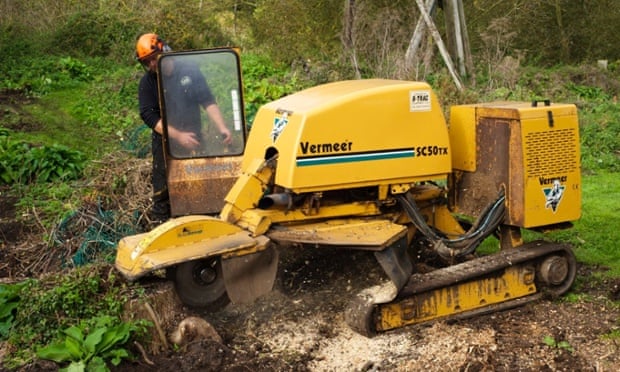 After a week of solid studio time, the need for manual labour is great. Over the past few weekends, I have been slowly grubbing out a tangled mess of collapsed chain-link fence intertwined with elder hedge that once bordered my property. I want to plant a native hedge unhindered by hideous steel.
My understanding neighbour, who has rather conveniently bought a mini-digger and is most keen to try it out, has been working away all week with help from tree surgeon extraordinaire Reg Harris of Urban Forestry popping over to grind the larger stumps. Now it is my turn to separate elder from chain-link and dispose of accordingly. The local scrap metal yard will take the fence and I eked out few barrowfuls of questionable logs (I probably got warmer cutting them than the heat elder will create in the wood burner).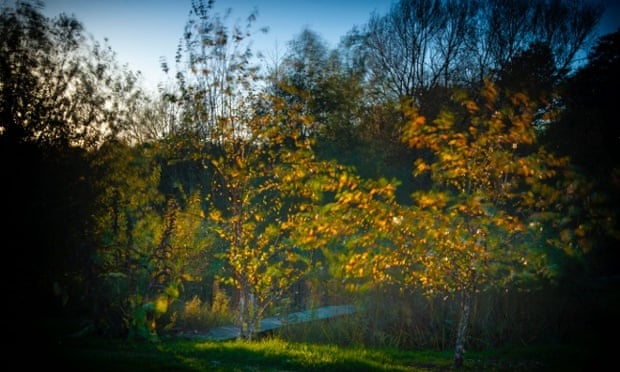 Speaking of heat: it is still warm enough to sow grass seed, but barerooted hedge planting will have to wait until winter has set in. Really, autumn is only just getting going with many leaves still on the trees. A lack of cold snaps could result in a lacklustre autumn show. Mind you, as the sun set, the golden Molinia caerulea subsp. arundinacea 'Skyracer' and sulphur yellow river birch (Betula nigra) did appear to glow in the breezy evening.
• Thomas Hoblyn is a landscape and garden designer. This is the latest in a series of posts on the ups and downs of a life spent creating beautiful gardens.