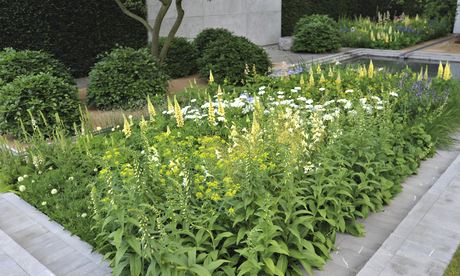 Could you make a garden like this? Luciano Giubbilei's best in show garden at RHS Chelsea 2014. Photograph: Michael Preston/Corbis
Suddenly the BBC is everywhere in the world of horticulture, with gardening challenges and competitions running rife through its programming. Alongside the usual suspects Gardeners' World and Beechgrove Garden, there is a slew of new programming, revivals and reviews, including the much slighted Big Allotment Challenge, hotly followed by the One Show's Hampton Court Palace garden competition for amateurs. Now they have their sights set on the Chelsea flower show's prestigious Main Avenue, in the form of the Designs on Chelsea competition.
I may be a good vintage in professional experience, but I am a relatively new professional in garden designing, having qualified in 2010. I have been weaned from childhood on RHS Chelsea being the pinnacle of the gardening year, the top of the garden design pedestal. The kind of people who design gardens for Chelsea have to be workaholics, grafting solidly for a few months up to selection, followed by months of mind-bending pressure in the run-up to realisation of the extravaganza that is a Main Avenue show garden. Let's not mention the astronomical budgets and Chelsea-savvy clients for whom these gardens are designed and built. Given there are only 17 show garden sites in total, reserving one for a competition-winning amateur seems a bit tough on the real pros who need not only the creative capital and chutzpah to carry it off but the backing of the sponsors who believe in their ability to deliver a gold medal.
Designs on Chelsea is offering one amateur "once in a lifetime" chance to design and build a Main Avenue garden at the 2015 show, but they also get to be followed about by TV cameras for a few weeks, with all their ups and downs broadcast to the gaping public, no doubt as a replacement for almost universally cringeworthy celebrity mother and daughter/son feature during this year's coverage.Or not not so amateur as it turns out, for having read the rules, this competition is open to garden design students, even graduated ones, even WORKING ones. Amateur means that less than 50% of annual income is derived from design work – who knew?
I'm all for minorities getting a look-in at what sometimes appears to be a bit of a closed shop event, but in this case, the exclusivity comes more from the extraordinary demands of the task than anything else. Giving a BBC edited idea that "anyone can do it" seems disingenuous to me, and potentially dumbs down a highly demanding profession.
• Rosalind Rosewarne is the founder of Rosewarne Gardens, a landscape design team based in Bedford, Bedfordshire.

RHS Chelsea competition
Congratulations to Pratheeban Nambyiah of London who was the winner in our recent competition to win tickets to RHS Chelsea.