Behind – or within – every good gardener, there's a great cook (or at least, as in my case, an enthusiastic one). The lure of eating our own produce is what drives us on during the bad times – the sting of spuds blasted by blight is anaesthetised by thoughts of buttery new potatoes; the bitter taste of root-flied carrots is forgotten when pictured against perfect, finger-sized pullings. There is, of course, next year, says our inner optimist. And this year has been that year.
Letters, tweets and threads of abundant plots have come to us thick and fast this sunny summer. We get glorious feedback from our readers as they proudly display their harvests – and we love it. So, what to do with this edible profusion? Cue the culinary conservationists among us – it's time to swell our food stores.
Drying
I find this a great technique for gluts of apples, shelled beans, chillies or herbs, but perhaps you can add other successes? Chillies get strung on a line of cotton and suspended in the airing cupboard till brittle, ditto leafy herbs (but they're just dangled rather than threaded), beans are shucked from their shells, popped on a plate and given the same environment. All, once bone dry, are stored in airtight glass jars. Apples (and bananas, too, but I can't claim they're home-grown) are excellent candidates for food dehydrators – I would also like to try making vegetable crisps. I tested a dehydrator once for a magazine and loved it – but it can be a cumbersome piece of kit, hence I have it no more. Herbs can be microwaved apparently (but I have a roomy airing cupboard so use this method instead).
Jams, jellies, chutneys & curds
There is so much to write here that it deserves a blogpost in itself, but as space dictates, here are my gleaned tips. Apples (cookers and crabs especially) are incredibly handy. They have naturally high levels of pectin (a setting agent) so when someone desperately offloads onto you a bag of over-ripe strawberries – notorious for their poor set – reach for the peeler. Sterilising jars in the oven is a doddle: just wash, stand (with lids) on a parchment-lined baking tray and pop in a 140°C oven for 10 mins. The saucer test is useful for checking the setting point, but when you think you've reached it double check with a slightly deeper bowl, as it's a pain to wash up all your jars again. Redcurrant jelly with a hint of chilli is excellent with mature cheddar cheese and biscuits; onion marmalade is made heavenly with the addition of fennel seeds. Don't use chutney jars for jams as the lids taint the flavour (unless you buy new lids). Runner bean chutney is delicious. I've thrown curds in here but most are citrus-based, so are tentatively home-grown – I've not tried making raspberry, nectarine or any other curd type, so would welcome any success stories.
Leathers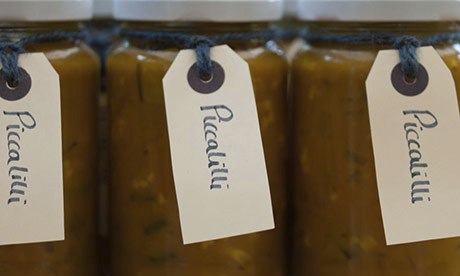 Homemade piccalilli and other pickles are a great way of using a glut of veg. Photograph: Nick Maslen/Alamy


Surprisingly nice (despite the name) as a mid morning energy booster, leathers are essentially a pulped up, cooked and sieved blend of your chosen fruit, water, sugar, lemon juice and spices. I've tried making them but, reading here – don't think I have as much experience as this lady, so I'll let her expertly explain how it's done.
Pickling
My uncle used to pickle cabbages and onions so much that they blew your head off, and where we tipped them in the wood, trees haven't grown for three years – needless to say that caution is needed when entering the world of pickling. My father loves piccalilli, so mum and I have both honed our techniques. I'm also a lover of cornichons (a tip here: they grow in the blink of an eye so check plants daily if, like me, you prefer little gherkins). Our collective advice would be to make sure you salt thoroughly to get that authentic crunch, use high-quality vinegar (this avoids those blow-your-head-off scenarios) and don't dilute it too much – you need the acidity to ensure the pickle doesn't spoil. Play with your herbs and spices as much as you like – you'll stumble across some fabulous flavour combinations. I'm a big fan of tarragon, dill and fennel seeds.
Involving alcohol
We've discovered that among GYO's forum members there are some enthusiastic brewers and mixologists! Of course, you can simply juice surplus fruit, and fresh veg juices are really popular in our office, but pasteurising liquid-filled bottles is a bit of a faff, so why not add a hint of yeast and the passage of time to make life easy? My wine-making efforts have evolved more around foraged crops such as elderberries and blackberries, but grape-based wines are becoming more of a UK option with a decent smattering of vineyards now throughout the country proving that point. Good bottle hygiene is key; there are well-stocked online home-brew companies to help you out. I've had my appetite whetted for elderflower champagne: I made some this year and it had the potency of a weak shandy, but it tasted so refreshing that that aspect was quite handy (I think I'd frightened myself by reading about exploding bottles, but I'll be braver next year and leave it a little longer to brew). I must mention sloe gin, not least because we have a long-running family competition to make the best batch. Not officially brewing of course, but steeping. Add sugar, leave for a month or two, and interchange sloes for damsons for raspberries for cherries for bullaces for plums for brandy for vodka for…
Butters & oils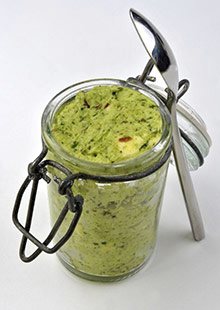 Herb butters are great for serving with fish. Photograph: WoodyStock /Alamy


I love making flavoured butters: simply soften a pack, chop up and add your favourite herbs, spices and seasonings, roll into a sausage, clad in foil and add to the freezer. I eat a lot of fish so just pop a wedge of lemon and a herb butter into the preparation and bingo – a fuss-free supper. Garlic butter is a godsend for resurrecting stale loaves. Again, if anyone has experimented with butter blends and combinations, I'd love to hear the results. I approach making oils with caution – if you don't get it right you can get botulism. Having said that, if you do want to get it right, make sure you dry your chosen crop thoroughly and be scrupulous with your sterilisation. Has anyone had successes they can reveal here, please?
Blanching & freezing
This is the most obvious and widely-used preservation method for fruit and veg. If I'm feeling virtuous, I blanch my veg before freezing them, if I'm in a hurry, I don't. Blanching (dunking in boiling water for a minute or so, then immediately plunging in cold water) does improve eating quality to be fair, but if you're ultimately just going to add the veg to soups or casseroles, don't bother. Fruits don't need to be blanched. De-hull strawberries before lobbing a bagload in the freezer, ditto, remove stones – it allows you to pop the frozen lumps straight into your preserving pan. My redcurrants were huge this year so I've frozen some of the best strigs for dessert centrepieces by laying them out, untouching, in a takeaway container. Raspberries are a bit more forgiving, as once you've individually frozen the best ones you can just pop them all in a bag. Defrosted fruits have a softer texture and can ooze out lots of juice, so if you're going to use them to top anything, leave this assembly till the last minute.
Clamps & stores
I made a clamp outside once to store a glut of carrots. It consisted of a base layer of chicken wire, then straw, then carrots, then earth, then more straw, carrots and earth layers, all topped with a wire and straw dome. The badgers had great fun with it. Laying your root crops in boxes of damp sand is another option – it's a bit like digging for gold when you want to retrieve them. This works well, as the slight dampness stops your roots shrivelling, but if one spoils you often don't spot it for ages, which can result in contagious pockets. Store the box in a cool shed or garage, not somewhere warm. A great mini-fruit store is an old fridge. Don't turn it on – just shove it in the corner of your shed and pop your orchard fruits, unblemished and untouching, on the shelves.
Soups and sauces
All I want to say here is that this is a great way for reducing the volume of your harvest if freezer space is tight. I still freeze mine but if I were to have more time on my hands I'd invest in a pasteuriser and bottling kit. I dated an Italian for a few years and one of the good things to come out of it was this tomato passata recipe – it's a great way to use up gluts.

• Lucy Halsall is the editor of Grow Your Own magazine, which contains a wealth of information about growing your own vegetables. There are even more resources on the website, including the new growing guides section.