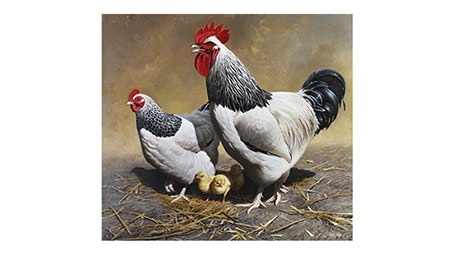 A family of Light Sussex chickens painted by Chris Jones.
Being a poultry enthusiast often extends beyond just keeping chickens: for many people who have a flock of birds, the interest can rapidly become an all-consuming addiction. Such enthusiasts span from those with a few birds in the back garden through allotment owners to smallholders and then the farmers beyond; they are all, in some shape or form, chickeneers.
This extension of simply keeping chickens may express itself in the form of collecting chicken books; for others it may be collecting photographs or breed club journals. Then again it could be sculptures or ornaments, or it could simply be a concoction of all of the above.
The hobby of keeping chickens may not seem like it's on the same artistic paraphernalia level as horse, dogs, cattle or even sheep, but go back a couple of centuries when the country was gripped by "hen fever" and the concept of fancy fowl began to emerge in Europe, and you will see the depiction of poultry in artwork is very evident. It's no surprise that echoes of those days are still around today. The money and prestige of chicken keeping may not currently be at the same levels as they were in the mid-nineteenth century, but the energy, enthusiasm and appreciation of poultry is still around today. And chickens continue to be portrayed in art, with the work of people Chris Jones, a poultry artist from Trowbridge in Wiltshire.
Chris has an exquisite eye for detail when it comes to poultry. You can see how much time he has spent studying wildlife and the natural world. His paintings not only pay homage to the complexities in the plumage varieties, but also aim to capture the distinct form and carriage of each of the breeds in what he describes as a "magic realism". As someone whose main interest sits within the science of poultry I admire the way he combines the beauty of the birds with a careful observation of their behaviour and form.
If you want to see for yourself and take a closer look at Chris's work (and Chris working), then visit the National Poultry Show at Stoneleigh this year (November 16/17 ) or the Federation Poultry Show at Stafford (December 21/22) where he will be exhibiting and selling originals and prints. At both these events you will not only be able to see Chris's work but you are likely to be able compare some of the paintings against some of the best real life examples of the poultry breeds in the country. And just in case you are pondering whether your wallet can afford one of these pieces of work, prices for the originals can start in the £1,000s, with limited edition prints are available for around £100. If that still seems beyond your budget, Chris has this year released a calendar of some of his poultry paintings which can be bought for £9.99.
For more details of Chris's range of work, chances to purchase originals, prints or the calendar then visit chrisjonesart.com.
• This post is part of a series on poultry keeping from Andy Cawthray, a self confessed chickeneer who writes for a number of magazines, provides talks & courses on keeping poultry at home and shares his experiences on his personal blog TheChickenStreet.