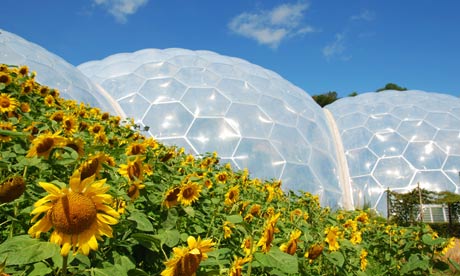 The Eden Project in Cornwall. Photograph: Alamy
As part of the Eden Project's first ever Green Fingers Festival (running until 29 June), we've gathered together a panel of expert Eden horticulturists who will be available for a live Q&A session this Thursday (26 June) from midday to 1.30pm (BST).
Eden is home to plants from all around the world and its award winning team of gardeners have a hugely wide breadth of knowledge and will be able to answer all your horticultural queries.
The panel will feature:
Donald Murray is chair of horticulture at the Eden Project. Donald is an experienced temperate and tropical horticulturist with 27 years experience in the United Kingdom, Central and South America and West Africa. He'll be able to cast his expert eye over all your gardening questions – and because of his experience of tropical horticulture, will be able to help especially with your queries about exotic plants.
Catherine Cutler is Mediterranean biome lead at the Eden Project. Catherine has worked at Eden for 14 years. She is able to answer a range of gardening questions and has a particular interest in ornamentals and protected plants.
Katie Treseder is plant health manager and entomologist at the Eden Project. Kate has overseen the quarantining of the diverse range of plants that have been brought in to make up the fantastic displays in the biomes. Katy is the person to answer your questions about plant pest and disease problems. (ktreseder@edenproject.com)
The Q&A takes place in the comments section below this article. Taking part is easier than ever: you can create a free Guardian account, or log in using your Twitter or Facebook profiles to comment. Alternatively, you can tweet us @guardiangardens or email your questions to Jane Perrone who can post them for you.
Join our Facebook group to meet more fans and friends of the Guardian's gardening coverage, share your gardening successes and ask for advice.