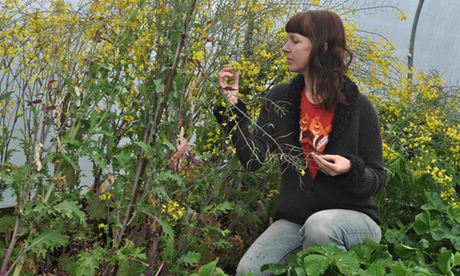 Kim Stoddart's kale plants are already starting to set seed. Photograph: Kim Stoddart
When I first started this blog I imagined there would be a few small sacrifices to make along the way. I was confident I could learn to make, mend and "do" my way out of most of the obstacles I'd face; but surely my complete lack of buying power would hinder my ability to garden as before?
As it turns out – no – not at all.
I've had to make an exemption for horticultural books and magazines which I can't always get from the library or indeed for free, but that's it. Otherwise, I'd go as far to say my gardening experience has been greatly enriched.
It's true some things have taken more time – at least at first. The raised beds and pathways I built last year were very time-consuming. However, that wasn't because I was making them out of free materials – they were just fiddly to do full stop. But they definitely make life a hell of a lot easier now they're there.
I have to confess I was tentative about using my homemade seed compost. Surely it couldn't be as effective as the bags of crumbly potting material I used to buy? Yet a few months in and I love using it. Yes, there's the odd weed to pick out, but it does the job superbly. I can just go and help myself when I need more.
Over time I've become more confident at experimenting. I don't use rooting powder on the cuttings I've taken (as I've run out) and I've been snipping a few at the wrong time of year, but yet most (about 90%) have taken. This is despite me clumsily pulling them out of the earth and shifting them to a new home about a month ago. I've learned that most often things aren't as precise or indeed complicated as they are made out to be.
Seed saving is a perfect example. Most people have dabbled with peas, lettuce and maybe tomato but there's an aura of mystery about most of the rest – I wasn't sure how much I'd be actually able to do for myself. Yet I've got last year's beetroot and carrot about to flower, and my herd of kale plants are beginning to set seed already. That's just for starters. Entering this bountiful world has without doubt been the most rewarding exercise so far.
There are a multitude of reasons why this activity deserves and warrants more attention. The Soil Association certainly think so, and this is why I am working with them to produce a series of short films on seed saving which will be shown on this blog in the coming months.
During filming at the Garden House horticultural school in Brighton, I found myself in awe of the stunning array of landscaped flowers and shrubs. It cemented my desire to expand my gardening horizons. As luck would have it, a trip to the annual seed giveaway at the scenic Royal Pavilion gardens provided me with a range of ornamental seeds with which to start. While there I found out about the many inspirational wildflower planting projects taking place in and around Brighton. Speaking to the people involved has reinforced to me the true meaning of the saying "weeds are just plants growing in the wrong place", and they shouldn't necessarily be eradicated. Although pesky hairy bitter cress – I make an exception for you – be gone for ever, dammit!
The challenges of not being able to buy anything will continue, as will my experimenting with new (and old) ways of doing things. Gardening for free is no longer an experiment – it's just what I do now and I couldn't imagine it any other way.
If there are any areas you'd particularly like me to cover in the coming months in this blog please share them in the comment section. As always, I'm keen to hear your ideas and experiences on all things gardening for free.