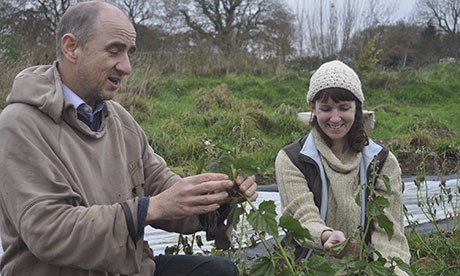 Leander Wolstenholme (left) and Kim Stoddart go foraging. Photograph: Kim Stoddart
As the days shorten and everything slows down (myself included), my time is freed up to get more experimental in the garden. As I'm currently reading George Monbiot's fascinating book, Feral, about re-wilding – I realise I fancy going a bit more off the beaten track myself.
I already leave a few patches of the garden pretty much alone because of the beneficial wildlife these wilder areas encourage. But what I'd like to do now is have a stab at growing some munchable plants for which you would normally have to forage. Not because I don't like the idea of casually strolling through fields and woods looking for them (I do). But we don't have a great deal of time and the prospect of having some of these particularly delicious edibles, such as wild garlic leaves, closer to hand next year, is very appealing indeed. I've heard it can be done and I'm wondering what other undomesticated plants I can slip in about the place as well.
To remind myself what's out there – I have a flick through my collection of John Wright's various River Cottage foraging books for ideas.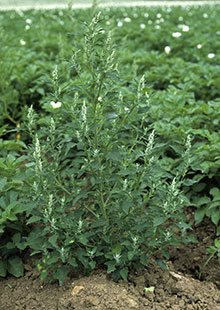 Common weed fat hen (Chenopodium album) is useful for foragers. Photograph: Nigel Cattlin/Alamy


It turns out I have more than I think growing in the uncultivated spaces in the garden anyway. Common sorrel I already knew about, and having double- and triple-checked it isn't lords and ladies (its poisonous lookalike), I know it's safe to use. But I didn't realise we had fat hen, and to my surprise it turns out that a "weed" I've been battling all summer to eradicate from one of the polytunnels is the very edible hairy bittercress. In Wright's opinion it is "the best of the wild salad vegetables" and "neither hairy or bitter". Knowing that I can eat this tiny but ferociously invasive plant will hopefully lessen the annoyance that comes from trying to keep the blighter at bay.
So what else to try to add? Given the fact that I need to do this safely, legally and for free, I decide to enlist the help of a food forager and botanist I know; Leander Wolstenholme. He lives with his family at Lammas , an eco-village in West Wales where the residents are all on a mission to live off the land. They are an inspiring and very hardy bunch. As well as foraging speciality salads and herbs for restaurants, Wolstenholme's also experimenting with seeing what wild plants he can encourage to grow on his plot. I go along to have a peek and find out what's working best.
Common sorrel is definitely top of the list. It normally likes to grow in a shady and sheltered spot as it's a hedgerow plant but it's flourishing on a relatively open and wind-exposed site so is probably quite forgiving of its location. It apparently grows well from seed which can be collected in July or August and seems to work best directly sprinkled into the soil. I'm going to add to my existing collection next year, as it's a versatile leaf that you can use in salads and which works particularly well as a delicious late addition to risotto.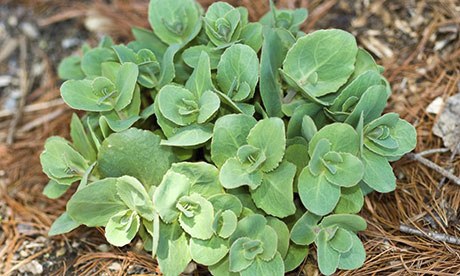 Orpine's leaves may seem like an unusual salad ingredient, but they taste like cucumber. Photograph: Organica/Alamy


Orpine is an interesting plant that is also doing well on his plot. Originally a wild edible, because it's also popular as an ornamental in gardens, those foraged for nowadays are likely to have escaped from cultivation. The leaves taste of cucumber and are often used in salad. It's not one I'd considered but it has attractive large purple-pink flowers, and I can easily find somewhere to slip in the couple Wolstenholme offers me. It grows well from stalk cuttings apparently which can legally be taken from wild plants, as long as you don't dig up, or disturb the root.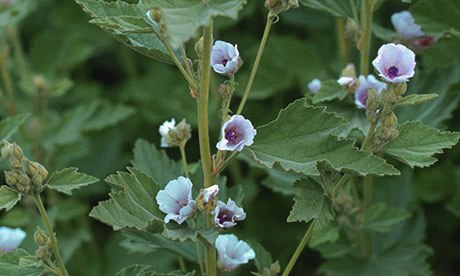 Marsh mallow grows readily from seed. Photograph: blickwinkel/Alamy


The marsh mallow that he's experimenting with are also flourishing. Used as the original basis for, yes you've guessed it, marshmallows, I share his enthusiasm for using the roots from these plants to have a stab at a traditional take on these popular sweets. They grow well from seed apparently, and I'm going to just bury the prickly seed heads that he's given me in a moist spot of the garden and hope for some attractive white-pink flower heads next spring and summer.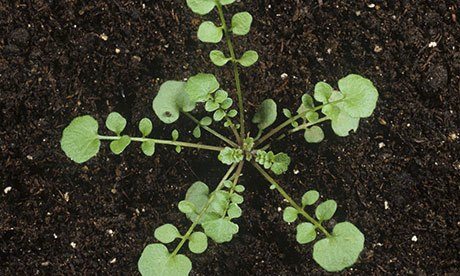 The pernicious weed hairy bittercress is also a valuable addition to the salad bowl. Photograph: Nigel Cattlin/Alamy


Perhaps bizarrely, one plant that isn't doing so well is the bittercress, which apparently the slugs seem to relish. I wish they'd eat some of mine but never mind. Although he doesn't have them himself, I learn from Leander that my desire to have a stab at growing samphire is within the realms of possibility. Although a coastal plant, he knows someone who doesn't live by the seashore, yet has had success with a little patch of rock samphire. The issue for me will be getting hold of a few whole plants (for free) in the first place to start me off as I'd need to find a land (or rather beach) owner that'd give me permission to dig up a couple. This one may have to wait.
Unfortunately, the same issue goes for alexanders, which I also have a desire to try out, having tasted how delicious they are, even simply cooked in a little butter. I will try and grow them from wild seed but I'll need to be careful when it comes to identifying the plants in the first place because of their many poisonous relatives.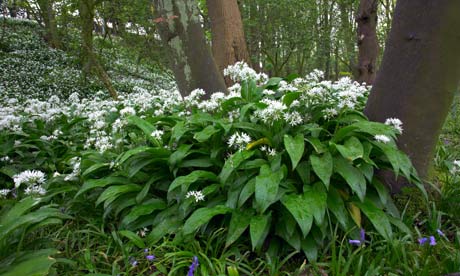 Wild garlic (ramsons) growing in woodland in Lancashire. Photograph: Dave McAleavy Images/Alamy


Wild garlic (aka ramsons) I'll go to extra efforts for. According to Martin Crawford's book on forest gardening, they do well grown from seed so I'll try that. I'm also going to track down some land and a willing landowner to let me gently pull up a few when they come into leaf (January/February next year). The obvious spot for them is then on a bank under a canopy of trees at the back of the garden but I'm also going to try in one of the raised beds I've set aside for perennials. As it's important to keep weeds at bay I'll probably inter-plant them alongside some Fat Hen which Leander suggested would probably do the job. Thankfully, in the case of the latter, I'll just need to ask my own permission to dig up and move them which, whilst still on the wild side, involves a lot less walking…
As always if you have any related experiences or ideas to share – I'd love to hear them.
• Kim Stoddart is a writer and thrifty living enthusiast who contributes to a variety of publications. She is a former businesswoman and social entrepreneur.