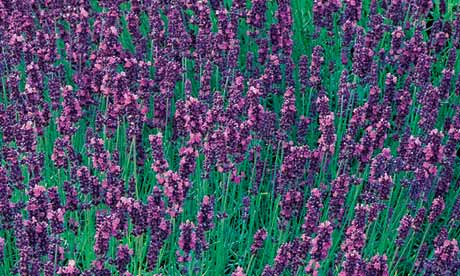 Lavender 'Hidcote', one of the varieties that could disappear if the new European legislation goes through. Photograph: Alamy
The European Commission is planning to add new regulation to the trade in garden plants. This is part of a process to replace a mishmash of existing regulations and directives with fewer new laws. But the proposals include extended powers, bringing new regulation to ornamental horticulture that will drastically reduce the range of plants available in the trade.
Current legislation allows growers and nurserymen to sell any ornamental plant variety by name if that variety is "common knowledge". Common knowledge is taken to mean any plant variety that has appeared in a catalogue, website, magazine or reference book with the variety name and some sort of brief description (which might be as short as "pink flowers in May, 30cm tall").
The new proposed EU Regulation on Plant Reproductive Material removes this possibility and requires that any named variety has an "officially recognised description" (ORD). The regulation says that the ORD must include the specific characteristics of the variety and make it identifiable. The UK trade, together with Defra, is of the opinion that the ORD will need to be a very detailed botanical description. For example, consider the lavender variety 'Hidcote' – a very widely grown variety. It is one of more than 300 varieties of lavender that are sold in the UK. In order for the variety to be identifiable from the ORD, the ORD would need to include details as small as the size and colour of the hairs on the leaf.
To write an ORD will require an experienced person with access to plant material of the variety. We offer a description writing service in our company, but charge £400 to £500 for each variety. It is a task which can take a day or more. It requires measurements to be taken when the plant is in growth, in bud, in flower and in seed – so needing many months of observation. The resulting description can be two to four pages long.
With perhaps 50,000 or more plant varieties requiring ORD, the burden on European horticulture could be immense. But, if this regulation becomes law, without such ORD a variety may not be sold. Many growers will look at the cost of this and simply decide that varieties which sell in only modest numbers are just not worth the hassle and cost, so they will be deleted from catalogues. The result will be a reduction in choice and diversity, with the loss of many older varieties forever.
We grow a wider range of plants in British gardens than in gardens anywhere else in the world. We have a long heritage of both innovation with gardens and garden plants and conservation of interesting and valuable heritage varieties. If this proposal becomes effective, that heritage will be threatened, diminished or lost.
The proposed extension of powers is unnecessary and disproportionate. Gardeners, growers, plant breeders and conservation bodies must come together to campaign and lobby for the rejection of this proposal. If we don't, our gardens may never be the same again.
• Graham Spencer, director of Plants For Europe Limited, is an independent plant breeders' agent.