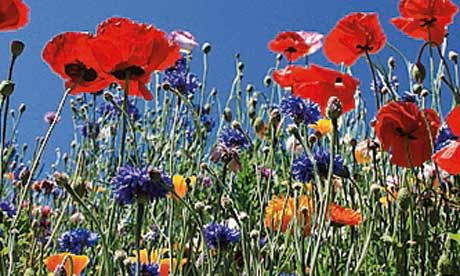 Did the Great British Garden Revival inspire you to sow a wildflower meadow? Photograph: Getty
Gardening telly ain't what it used to be. Or so goes the argument that fizzes up every so often among gardeners – both in the flesh and on Twitter – about the state of Gardeners' World, and why gardening hasn't benefited from the same kind of boost as baking via shows such as The Great British Bakeoff.
So there was much anticipation ahead of the first episode of BBC2's new show The Great British Garden Revival last night – would it deliver on its stated aim of "inspiring viewers to save the nation's rich gardening heritage?" With that kind of grand objective, the stakes were high. James Wong, ethnobotanist, Countryfile presenter and one of the young guns of horticulture who's agitating for change in the industry (and features in the programme himself) ramped up the pressure, too:
BBC's biggest gardening series for a decade's bout to launch on BBC2. If ya wanna see more gardens on the telly, tune in now! #GardenRevival

— James Wong (@Botanygeek) December 9, 2013
TV programmes are now dissected moment-by-moment on Twitter, and gardening shows don't escape scrutiny – just search for the #shoutyhalfhour hashtag for proof that gardeners are quick to jump on any ill-judged horticultural advice or pour on praise. So it didn't take long for the first show – featuring Monty Don on wildflower meadows and Joe Swift on front gardens – to secure a thumbs-up – albeit a qualified one. This tweet was typical:
catching up with great british #gardenrevival . Great to see a mix of presenters & it feels exciting. At last, more for us gardeners!

— The Walled Nursery (@TheWalledNurser) December 10, 2013
And the paid TV critics seemed to agree, too: the Telegraph's Ed Cumming declared:
The series is hardly revolutionary, but there was plenty of sensible advice and lovely shots
There were quibbles, of course: a how-to segment in the section on front gardens got the most flak. When Joe Swift was shown planting a clematis in a pot to clamber up a semi-circular drainpipe cover trellis, people were quick to point out where he was going wrong. The pot was too small for the plant (a Clematis armandii which needs a cool root run, not the restriction of a pot), putting crocks in the bottom of a pot is now largely discredited as a way to improve drainage, and even if the clematis did grow, it would overwhelm the trellis, was drawing attention to the drainpipe rather than hiding it.
#gardenrevival Not a bad start. Any gardening tv is a good thing. Bit about using front gardens was very good…..except the 'makeover'.

— Clockhouse Nursery (@ClockhouseEN2) December 10, 2013
Others queried the time of year chosen for the broadcast – gardeners would perhaps be more likely to watch because there's less to do outside at this time of year, but what about the non-gardeners the programme was trying to inspire – it wasn't really the right time of year to do a lot of the things being shown, so would the impetus be lost by next spring?
Aaargh! Joe! That pot's far too small for a big, rampant climber like C. armandii! #stopthatman #gardenrevival

— Harriet Rycroft (@HarrietRycroft) December 9, 2013
Whether the Twitter buzz will continue for the other episodes – some of which have already had to be shifted to make way for Mandela Tribute programmes – or be backed up by ratings figures remains to be seen. With a GBBO-style show coming to BBC2 in the spring called Grow, Make, Eat: The Great Allotment Challenge, it's almost tempting to spy a great British gardening TV revival on the horizon.