There's a trickle in the gardening world that's about to break its banks and flood the world: guerilla gardening. In other words, growing things on land that does not belong to you. It began in New York in the 1970s and smacks of people clambering over fences by torchlight to till and sow a neglected space. But it goes much further than that.
This autumn Sheffield University ran a forum called From Grey to Green: Adventures in Radical Urban Gardening. Five speakers shared insight into the beautiful rainbow canvas that guerilla gardening has become. In cities we are short of space, but greening can be done in any sad space – in car parks, up walls, even rooftops can be transformed.
Forget grimy direct action cliches. Guerilla gardening is much more fun than that.
First up was sassy American installation designer Vanessa Harden. She showed us technical drawings inspired by the glamour of James Bond and Q's gadgets. Need to dig a furtive planting hole? Mark 2 Agent Deployed Field Augur comes in an elegant handbag. Drill the hole, collect the surplus soil in your bag and hurry away. Carry your own Precision Bombing Device no 1, it looks like a camera but it shoots flower seeds up to 15m into any bit of wasteland. Device no 2 can be fixed to the side of your shoe to scatter seeds along the bedraggled pavement edges as you walk.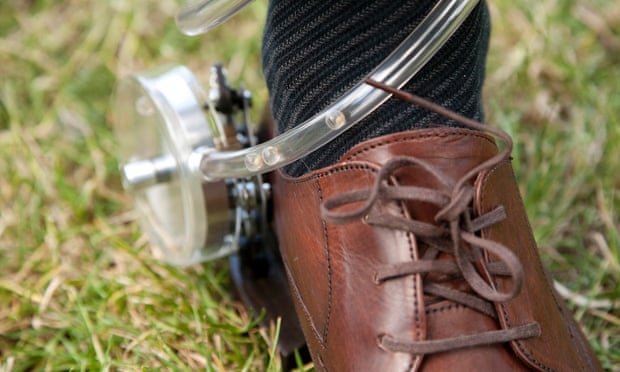 Nigel Dunnett, professor of planting design at Sheffield, has been working on Pictorial Meadows for nearly 20 years – these should be "like a jewel box". You may recall the scintillating planting at the Olympic Park. Dunnett remembers the joyful uplift of seeing a meadow as a child and he works to this memory. These now shimmer in places all over Sheffield, in public spaces, in housing estates where the children wander, see the butterflies and pick the flowers. "It needs to be beautiful, it is art and the aesthetics draw in the people".
Fashion designer Ron Finley, self-styled guerrilla gardener from South Central Los Angeles, was the main man of the evening. Earlier in the week Finley walked the aisle of Sheffield Cathedral dressed as a strawberry to deliver his impassioned flow on access to healthy food. In LA you can't find a fresh apple without a long car drive. His reaction? To pull up the littered turf outside his house and plant it up with banana trees and sunflowers for the neighbourhood. He has led dig-ons across his city, planting edible gardens in parks, schools and at homeless shelters.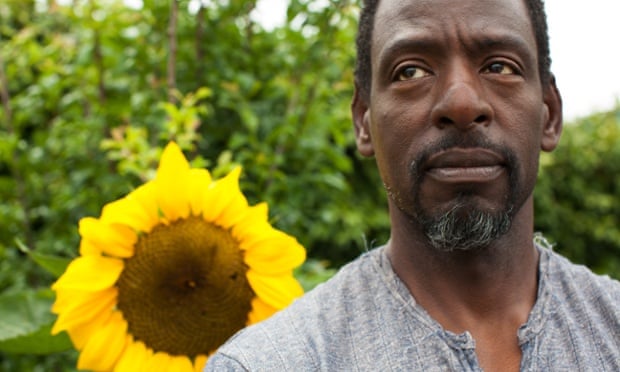 He has the whip-fire delivery of a messiah but he's no charlatan. Behind him on a screen is an image of a double wheelchair for the horridly obese. He took on his city council when the authorities baulked at his public growing programme. He will not keep quiet. "I don't grow food, I grow people and sometimes they grow food".
And so to the author of On Guerrilla Gardening, (the manual for the would-be guerilla) Richard Reynolds – dapper as a dandy and the offspring of a teacher and a parson – he preaches too, both to newbies and converts to the guerrilla cause: "I intend to turn these radicals into the main stream." Operating from Elephant and Castle in London, he sneaks out late at night and sows seeds in tree pits and on roundabouts, colouring up unwanted places. His delivery puts the people right at the core of all this blooming concrete.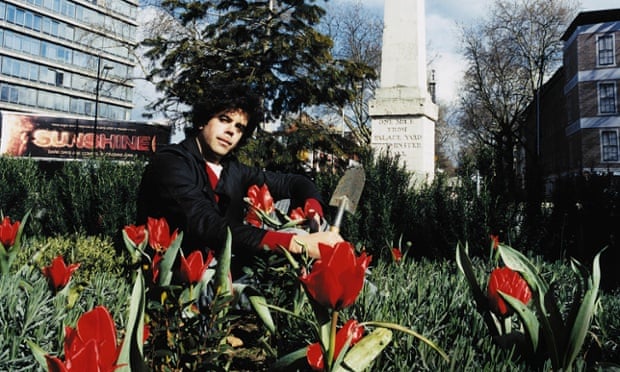 He showed us 10 passionate heroes of the GG movement. June Turnbull, a remarkable lady who planted a garden on barren spot outside her home. When the local authorities noticed, it offended all their sense of health and safety procedure. She fought Wiltshire County Council and got them to back off. The lesson: if they are going to come down on you like a ton of bricks, fight them. Then there is Incredible Edible Todmorden, whose members are greening up a declining mill town. They take pride in the fact that the fattest courgettes are clambering around in the garden of the serial murderer Harold Shipman's surgery.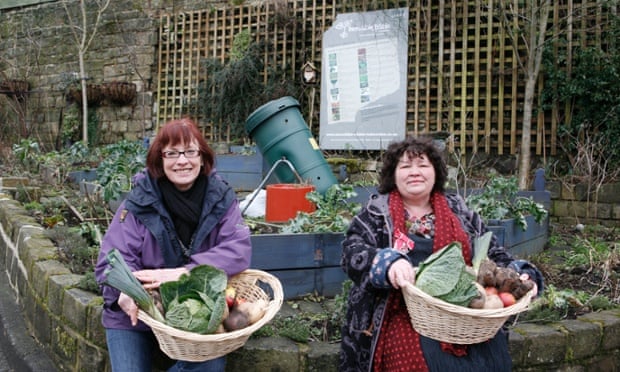 John Little of the Grass Roof Company gave us a virtual tour round Clapton Park Estate, EC4. His beef is maintenance. But so far a cry from those shaved to nudity lawns, shrubs awkward-clipped to submission and herbicide liberally sprayed. Sowing replaced spraying early on and they even have their own estate seed mix, given away to any residents who care.
As he works the estate he listens to the inhabitants and gives them what they want. He came out with a long string of residents' names, photo portraits and anecdotes about them: Fatima, who was so desperate to grow some herbs that she had sneaked coriander under the oh-so-regimented and sulky rose bushes and Zenap from Turkey who wanted big vine leaves for making dolma parcels. Why have all that pyracantha? Out with it and in with the gooseberry and other fruit bushes. They wanted herbs? In with good soil and herb beds. As for the maintenance: "we look after it by default".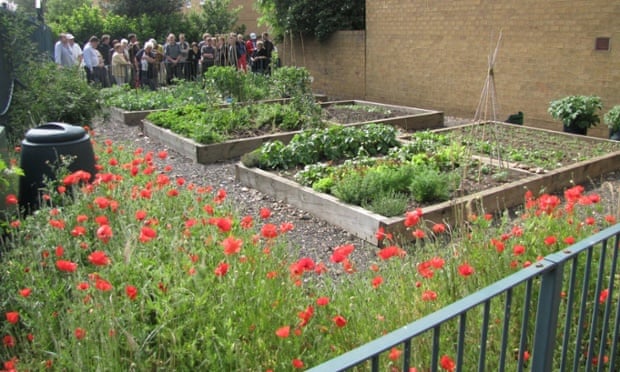 Some parts of London have a life-long waiting list for allotments. Little looked around and saw dust-blown pointless patches. "What is the point of this bit of grass?" Bingo. It was turned into their first allotments. It is about listening, working together, co-operation. I had a quick word with Sue of Green Estate, the Sheffield maintenance company who have sown and tended Dunnett's meadows. "We were a bit nervous the first time we sowed 100 hectares," she said. She was adamant that making things beautiful is the way to engage people and create a duty of care. Forget spending many thousands on a state of the art playground. Spend it instead on soft landscaping and reap the rewards, aesthetically, emotionally and for community spirit.
Sheffield has big ambitions to scrap some bleak dead land. An Eco Corridor some 3km long to be made from a disused dual carriageway (along the lines of the High Line in New York where dereliction is made to bloom) is in the pipeline. In another project, Love Square, an old disused bus depot is being rolled out as artful, striking, designed urban nature park. It is about putting the people back into the space.
So much passion poured into urban regeneration. The host, Matthew Biggs remembers his early days as a council gardener "taking awful things out of flowerbeds".
So how do the rest of us kick-start this in our home patches? And here is their advice:
Bring in colour and fun
Sow some sunflowers
Plant food plants in random places
Make it fun
Do not plant watermelons on the street – Roy Finley's advice after a vandalism incident.
This grey in the title of the forum is not just the built environment and the pounded pavements, but is also a mentality. The urban greening movement has been around for more than 50 years; only now is it starting to take to the elegant mainstream. The fun and colour in the venture invites us all to chuck seeds over forbidding fences or to sneak bulbs into tree pits. Grab yourself some tulip bulbs and join in.
• Catharine Howard gardens and designs in Suffolk. Read her personal blog here