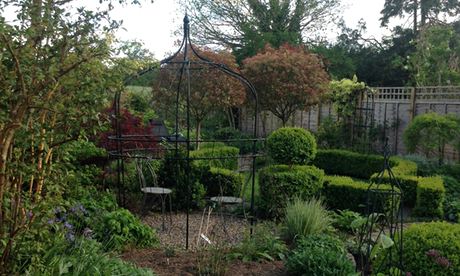 The garden, after a radical overhaul. Photograph: Kate Gould
Gardens are never finished, that is the beauty of them. Always changing, evolving, growing and so consequently there is always much to do. I don't know of a single gardener who is completely satisfied with their plot. There might be areas of planting that give them great joy but equally I bet there are areas that are on "the list".
I generate my to-do list over the summer season with a view to the following spring (we are nothing if not planners in my family). This sounds a bit officious, but in a garden where the planting is deep and lush and heavily perennial with some serious thugs in the borders, a good plan is required – otherwise the thugs grab any millimetre of advantage they can.
My garden was laid out about 10 years ago. Then I added new varieties and plants I simply had to have, and although the garden looks good often right up to the end of October, its overall impact is diluted by impulse purchases. As a garden designer you would think I know better, but I struggle to walk past certain plants in nurseries without buying them, and if I grow from seed I cannot throw good seedlings away and there are only so many friends who want vast numbers of something.
When I say my garden; this is the garden I grew up in and is in fact my mother's garden. It is where we garden together (me digging and her directing), and its success over the years hasn't been so much about the design or the scheme but my mother's gardening skills through the summer.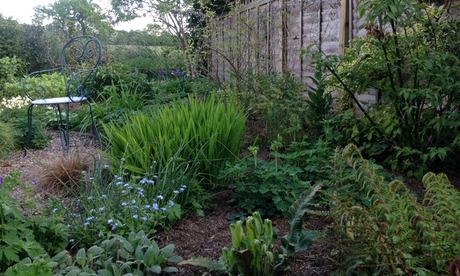 "During last year's hot summer we watched the thugs of the borders flower and set seed in the heat." Photograph: Kate Gould


During last year's hot summer we watched the thugs of the borders (Thalictrum delavayii, Verbena bonariensis, Lythrum virgatum and others) flower and set seed in the heat. If we didn't act soon, any semblance of the original scheme would be lost, so the basic plan was to dig it all out (all that could be dug out, large shrubs and trees aside, of course), put it on a tarpaulin, clean up the clumps of plants, divide and re-plant. Simple.
Simple indeed! With the wettest winter in history the garden partially flooded. Nothing like the horrendous conditions that hundreds of people suffered, but certainly enough to slow us up. This was compounded by weather so mild everything that started to burst into life unusually early. The borders in the garden which is only 63in x 28in are deep, in some areas almost 4m deep because the garden is laid out as a series of circles and getting to the backs of these borders, even on boards is tricky. There was a week in late January when the weather abated and the ground was just about walk-able on and so we set to cutting the garden down. There are many grasses and perennials in the garden and we leave the foliage over the winter. This helps to protect the garden, which in normal winters can be blasted with cold easterly winds and heavy frosts, which have even in past years zapped the flowers on the wisteria against the south-facing rear of the house in May.
Once the garden was cut down and the ground tidied, it was easy to see where certain plants had outgrown their spaces; Rudbeckia 'Herbstonne' which started as a single clump was now three very large clumps; the other rudbeckia, Rudbeckia fulgida var. sullivantii 'Goldsturm', had spread and now seeds as well. This is a great plant with golden rays of flowers around a velvety dark central cone. It flowers for ages, stands upright by itself and will cope with a bit of dry shade but there was far, far too much of it. Thalictrum delavayii appears to be the daintiest, airiest plant going, but don't be deceived, it has sturdy roots, will grow out of nothing and seeds copiously. The same goes for Verbena bonariensis, Strobilanthes atropurpurea, Valeriana pyrenaica and Althea cannabina, which I have been trying to eradicate for about eight years now: I reckon I am still on the losing side. Its tuberous roots simply regenerate if a tiny scrap is left in the ground.
Thermopsis lupinoides, which I love for its bright yellow flowers, had travelled from one side of the garden, under a path, 15ft in the other direction and into another border where it was making its presence felt; another plant with fleshy roots that spreads by runners that had to be radically thinned. Add to that Persicaria polymorpha, Omphalodes cappadocica and Geranium nodosum (which the books say is great for dry shade – true, but it is much happier absolutely everywhere else and has the toughest tenacious little roots ever) and the overhaul needed was radical.
The ground was still too wet to walk on and digging out plants would have been hard going, so we waited for better weather and when this came over the Easter weekend the tarpaulin was spread out we set to work an area at a time digging out the plants and evaluating what was worth re-planting. The day was mainly overcast with sunny spells, which was good for the uprooted plants but conscious of time we quickly added organic matter to the soil and dug it over. Forty years of adding compost to the clay soil means that there is a good 600mm of really good planting medium, but even so in dense borders plants need nutrients, so in went more.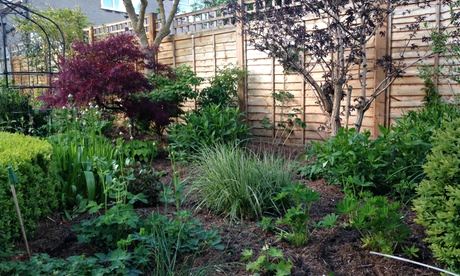 "Once the garden was cut down and the ground tidied, it was easy to see where certain plants had outgrown their spaces." Photograph: Kate Gould


The ground was raked over to level it and the plants we wanted to re-plant (along with a few new ones – somehow new purchases sneaked their way in) were laid out on the surface to ensure that the spacings were correct and so the scheme could be evaluated and tweaked slightly. I have never got on with the two-forks-back-to-back method of dividing, so I use a saw: this results in oddly square-shaped clumps, but the plants soon right themselves. We replanted everything with a slow release organic fertiliser and watered in well. There were a few droopers on day one, which was to be expected but by day three after re-planting everything had picked up and was visibly growing.
This sounds quite a brutal way of tackling a border – another option would be to remove some of the larger clumps of plants in situ to create more space. But the scheme had diluted so much over the years that only a radical overhaul was going to work in order to get a sense of cohesion back into the design. It was staggering the number of plants that were left over, but nothing went to waste and friends and family now benefit from the extras in their gardens.
The garden looks a bit gappy now but it has been mulched with Strulch, a-straw based mulch that apparently deters molluscs as well as retaining moisture. Even in two weeks the plants have grown enormously. There may be a few small gaps to plug later in the year but this is usual and can be done with dahlia, and by the time my mother has worked her magic, I think the garden will look more balanced. It was wonderfully wild last year, but it felt that wild was winning and the scales had been tipped. Now harmony is restored, we will see whether it is an improvement later in the year. If not, well, there is always next spring to make changes. Perhaps it is not the fault of the garden that it does not sit still, but the fault of the gardener.
• Kate Gould is an award-winning garden designer and a regular exhibitor at the Chelsea flower show