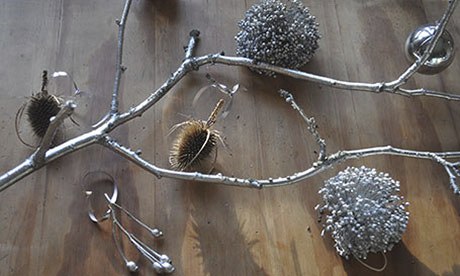 A spray of silver paint and homegrown goodies from the garden become festive decorations. Photograph: Kim Stoddart
It was the posh shabby chic Christmas catalogue that came through the post that did it. It was festooned with an array of simple yet expensive twig-and-willow wreaths and silver-effect logs and branch-based decorations; I balked at how much they were charging for (what appeared to me) to be some bits of a tree with silver spray-painted on them.
I had to admit they did look good, though. But were they as simple to make as they seemed? Armed only with the contents of my garden and a couple of cans of silver and gold spray paint, I decided to find out.
To start me off in the right direction I invited my friend and one-time florist Chris Anderson over to show me how to make a traditional wreath. She brought her professional materials with her so I could see what I'd have to somehow replace, because as part of my thrifty gardening challenge I am not buying anything new at the moment. First we needed an alternative to the metal-wired base: I'd read that willow works well, so we cut a few small branches to try out.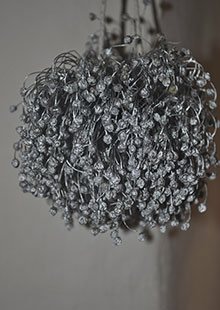 A spray-painted allium. Photograph: Kim Stoddart


It was easy. The willow is so pliable – you can use garden twine to bind a couple of thin branches together into a circular shape with little fuss at all. If you don't have any willow, I'd wager that anyone that does would be willing to pass some on. It's such a prolific grower you'd be doing someone a favour cutting it back a bit. I'm certainly going to make sure I make use of mine in future; it's a great material to work with.
Then we needed to find a way to effectively attach the cypress, variegated ivy, rowan berries, holly, bay and other leaves I'd picked around the frame. Florists use special wire to do this and tightly bind the shrubbery into place. Garden wire works fine, but if you don't have any, you could try sandwich bag ties instead; although I'd remove the paper covers first for a more discreet finish. Or, you could do as I eventually did, and simply tuck everything into the twine around the base. I found I really liked it when the foliage stuck out at different angles, and it's a darn sight quicker to make a wreath this way. I ended up getting a bit carried away and making five, I liked them so much.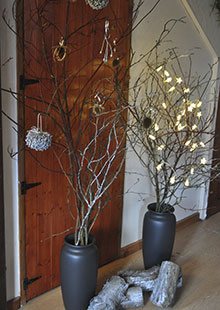 Vases full of spray-painted branches. Photograph: Kim Stoddart


By this point I was starting to feel quite festive, so I decided to take on some of the frost-effect twiggery that still seems to be popular this year. I cut some assorted branches, sprayed them silver and then set about making some baubles to go with them. I'd already planned to do something with the beautiful leek seed heads I've been enjoying these past months. I'd shaken off (and collected) most of the seeds before bringing the alliums in to dry, so after a simple spray of silver, it was just a case of tying some twine (or ribbon) around them and cutting the stalks to turn them into the most glamorous of baubles. I also wanted to try this out on pine cones, but failing to find any in my area I instead had a stab at using some large thistles – turning them golden before hanging them. Then with a coat of silver the rose hips I'd cut also held their own among last year's shop-bought silver baubles.
So far so easy: buoyed up by these efforts, I felt it was time to tackle something larger. Pre-lit paper twig trees seem to be all the rage still; retailing in the region of £100 for a 6ft silver decorative tree with lights. I cut some branches, sprayed a few silver before arranging and tying them discreetly into place. I considered turning a log into a base, but plumped instead for the hassle-free option of putting them in a tall pot and weighing it down with bricks. There were a lot of branches left over, so I made a second tree before simply adorning both with the home-made baubles and Christmas lights. Everyone seemed to approve.
Finally, I thought I'd have a go at copying a present sack I'd seen for sale. I say present sack – it was more of a hessian bag with a few silver stars on it, so I figured it should be within my range of creative ability. Digging out one of my old potato storage sacks (also hessian), I washed it before pondering what design to go for. I thought a simple Christmas tree shape would work well – so using a Stanley knife, I cut a template out of cardboard for me to spray silver onto. The end result was a bit too minimalist for my liking and certainly a tad too austere for a child. No matter: I jazzed it up with a bit of tacky tinsel and then it was just the job.
As I stepped back to look at my handiwork – I wondered why the hell I'd never done this before. It's a doddle. You don't have to use traditional evergreen materials; you can just experiment with whatever you find. It doesn't take very long to do and I would imagine some of the decorations like the wreath bases, silver logs and twigs and possibly some of the baubles could well last a few years. Perhaps most importantly of all, I've proved to myself that it can be done, and that is absolutely priceless…
I'm sure there are many more ideas for pain-free Christmas decoration making that I haven't touched upon – I'd be really interested to hear your experiences and suggestions.
• Kim Stoddart is a writer and thrifty living enthusiast who contributes to a variety of publications. She is a former businesswoman and social entrepreneur.