Christmas is past, and our televisions screens are now under attack from the annual carpet bombing by tour operators. For many viewers, these adverts will stir thoughts of sunnier times and warmer climes in the summer months ahead, but they have made me dust off last year's holiday snaps – from a trip to the mountains of north-east Turkey. And what an inspiration these have been for my developing design ideas here in the walled garden that I am in the process of restoring.
I was lucky enough to help lead a nature tour into the Pontus Alps and elevated plains of Eastern Anatolia with Bob Gibbons, on his very first sortie into Turkish heartland, back in July. In a fortnight, our tour was able to cherry-pick the very best that this country has to offer: the paying punters were not alone in being overwhelmed by flowery spectacle, for I too was gobsmacked by the exuberant beauty of the places that we were honoured to visit. And yet, while the guests were clicking digital memories, I couldn't stop thinking about Flete, my garden back in Devon. Better than any coffee table volume on garden design, here in front of me nature was doing a fine job at dreaming up some of the most stunning planting schemes that I have ever had the good fortune to see
Colour combinations and structure are key elements of good design, and certainly we saw plenty of fabulous examples of both during our rambles. But more than ever before, I came to realise that the subtle mixing of plant groups versus singletons showed me how nature is so good at getting plant placing so very right.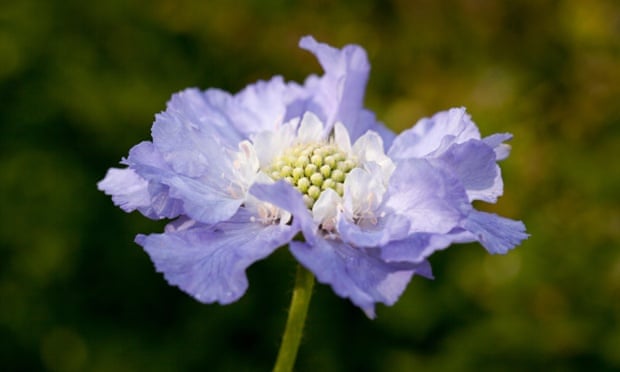 Colour first. I don't know whether it was merely the sparkling Anatolian light, but everywhere we looked there were glorious spreads of colour. Tiny forest-edge meadows high in the mountains – cut for hay once a year – boasted a glorious mix of rich violet-blue Geranium magnificum, pale, sulphurous clover, Trifolium pannonicum, the cheery blancmange-pink vetch Coronilla varia, and elegant belled spires of campanulas in both creamy white (Campanula alliariifolia) and inky blue (C. collina). Some of these species braved the drier, higher montane steppe in the rain shadow on the south side of the mountains, where they were joined by bold club-headed golden Centaurea helenioides, the gleaming white and yellow costmary (Tanacetum balsamita – worth growing for its stunning silver grey foliage alone), and that most handsome of all scabious species, the lovely, pale smoky blue Scabiosa caucasica. The latter reminded me so strongly of happy days at my step grandfather's nursery in Wallingford, where he grew them by the acre for cut flower: my Turkish jaunt hinted at how I should try to use them in my current garden.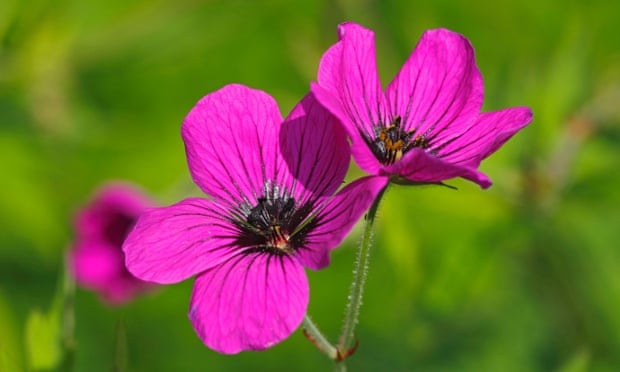 But star colour combination of the trip was that of the gaudy Armenian cranesbill (Geranium psilostemon) alongside a butch herbaceous daisy. This geranium is a "love it, or hate it" plant amongst gardeners for it has impossibly brilliant magenta flowers, with an appliqué tracery of shiny jet-black veins (to guide visiting bees, I am told). Christopher Lloyd, always happy to upset gardening good taste in his planting and writing, loved the plant, and grew it through sunny yellow verbascums (ouch!). "Shame on them", he wrote, of those who plumped for the softer-toned clone, 'Bressingham Flair'. Well, I am sure that he would have loved the Turkish pairing, just a simple mixing of this plant with rich yolk-orange Inula orientalis. The latter plant is a stout herbaceous daisy, roughly knee-high, with an abundance of large daisy flowers two to three inches across, each with a ring of long eyelash-like ray florets. They grew together in short grass by the acre: would these tough perennials survive in a grassy garden meadow setting back at home?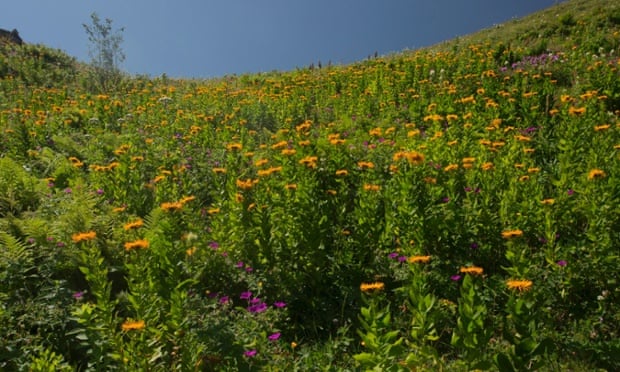 Some of the best structural associations were found in and around the high, wet forests on the lower slopes of the Pontic Alps. Bold-leaved butterburs and groundsels grew amongst vast swathes of ferns and the handsomely-foliaged Rubus caucasica, something akin to plantings by our Victorian forebears. In some cases the schemes were so very simple: grand sweeps of the shuttlecock fern (Matteucia struthiopteris) under the lofty canopy of coppiced multi-stemmed alders on steep wet slopes. Elsewhere, these grand plant assemblages included bold patches of colour provided by gigantic forms of familiar herbaceous friends: flat-topped heads of creamy-white Achillea grandiflora, massive clumps of soft blue Campanula lactiflora and vast platter-like heads of the hogweeds Heracleum trachyloma and H. platytaenia (not ones to introduce into gardens).
Yet it was on the open steppes close to the Georgian border that a simple blend of feathergrass (an unidentified Stipa species), inky blue-black Salvia nemorosa (reminiscent of S. 'Mainacht'), and a fresh lemon small scabious (Scabiosa columbaria ssp. ochroleuca) really bowled me over, combining stunning colour with clever placing of plants. These three dominants were neither so uniformly mixed as the frankly hideous annual flower meadows that are springing up on our municipal parks and road verges, nor so relatively clumpy as the naturalistic plantings of the New Perennial Movement. The scabious and feathergrass provided the most magically light and airy foil to the clumps of salvia, the whole effect punctuated by more isolated individual clumps of other plants.
I don't know whether feathergrasses will survive the winter-wet here in Devon, nor whether geraniums and inulas will grow in grassy meadows and tolerate an annual close shave of the scythe. Nor do I know whether or not these magnificent swathes of intense floweriness can be effectively recreated at the garden scale. Rest assured that I am going the try over the coming years, and I'll let you know how I get on.
• Andy Byfield is a founder of the wild plant charity Plantlife, is writing a book on plants and landscape, and tussles with two acres of walled garden in south Devon