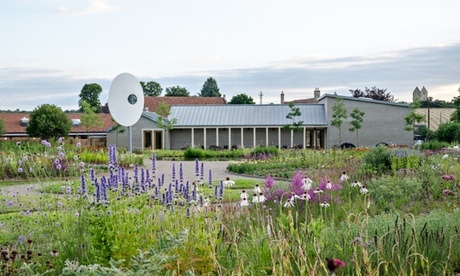 Oudolf Field takes root alongside the new Hauser & Wirth gallery in Somerset. Photograph: Heather Edwards
Oudolf Field, a 1.5 acre garden in Somerset commissioned by private contemporary art gallery Hauser and Wirth opened to the public last week. With spaces in Zurich, London and New York, Iwan and Manuela Wirth were so taken with the West Country that they moved from London to Dursdale Farm, where they developed a gallery and arts centre. Set on 100 acres of pasture and woodland, the couple engaged architect Luis Laplace to renovate the historic site and Dutch master landscape designer Piet Oudolf to create the garden.
Renowned for an intuitive, naturalistic style of planting Oudolf has received acclaim for projects that include the High Line in New York, Millennium Park in Chicago and Queen Elizabeth Olympic Park in London. The garden at Dursdale Farm bears his signature, with an emphasis on long-term plant structure, wild grasses and shapely perennials modernising an otherwise classical framework.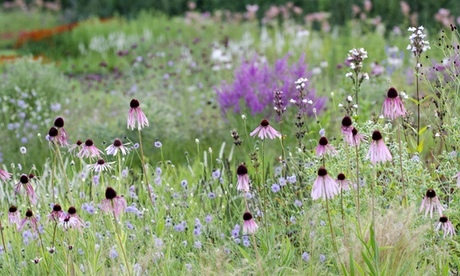 The planting is set among 17 oblong beds in the 1.5 acre garden. Heather Edwards


Carefully-composed wilderness contained in seventeen oblong beds defined by a series of paths make for inventive use of formality, and Oudolf Field is all the more radical for it. Studying the garden's architecture, one is reminded of a painter's palette. Or could it be that these cheerful landscape drawings in the gallery have made such a marked impression? Meandering around the garden is to appreciate just how artfully colour can be applied. Waves of chartreuse autumn moor-grass (Sesleria autumnalis) graduate to golden tufts of Karl Foerster grass (Calamagrostis × acutiflora 'Karl Foerster'). In a single shade so many wonderful variations are made. Warm winter light will soon draw every brown from these grasses as they die. "Even when plants decay they are beautiful," says Oudolf in a documentary to be released later this year. "I love the way they change and everything you see in them."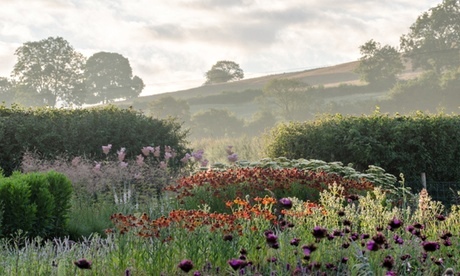 Piet Oudolf's planting follows the beautiful but low-maintenance philosophy of many of his other gardens. Photograph: Heather Edwards


For year-round balance, beauty must be found in unconventional places. That means every line, angle or surface must be considered in what has been coined "preposition planting". In other words, moments viewed "around", say, vicar's mead (Angelica sylvestris 'Vicar's Mead'), or "through" veils of hazy miscanthus, should be as impactful as when eyes fall "on" any other aspect of the garden.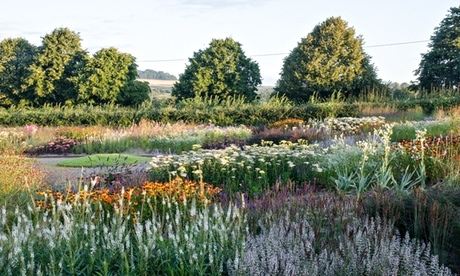 Oudolf chooses plants should by flowering time, height, and texture rather than plainly by colour. Photograph: Heather Edwards


Finding a kids do-it-yourself worksheet abandoned on the lawn, and with the painter's palette and Oudolf's philosophy in mind, I wondered what it would take to make my own downsized Oudolf Field. In his book Dream Plants for the Natural Garden, Oudolf collaborated with Henk Gerritsen to select 1,200 "beautiful and dependable plants", many found here at Dursdale, arranged in helpful chapters according to their behaviour – tough, playful or troublesome.
Beginning with selection, plants should be chosen by flowering time, height, and texture rather than plainly by colour. Beautifully low-maintenance is the attitude and intended look. Strong structural plants like whorled clary (Salvia verticillata) hold their own throughout the seasons, as do floating bobbles of globe thistle 'Arctic Glow' (Echinops sphaerocephalus 'Arctic Glow'). Accept the cycle of life, or better yet celebrate it. Whether that means spires of burnt echinacea, hazy seed heads from clematis or astilbe, winter plants should make shapely skeletons. Learn to love the rich shades of decay: Cimicifuga 'Brunette' is a late-season perennial whose pink florescence turns a committed purple-black; misty tufted hair-grass (Deschampsia 'Goldtau') evolves from dirty blond to brilliant bronze, and rust-orange Helenium 'Moerheim Beauty' used to great effect at Dursdale makes an easygoing companion.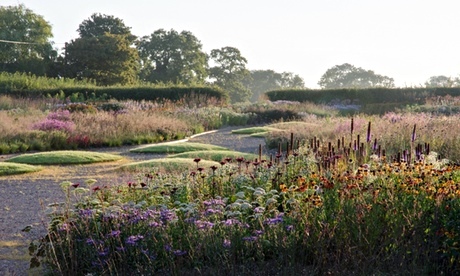 "Even when plants decay they are beautiful," says Oudolf in a documentary to be released later this year. Photograph: Heather Edwards


For cohesion, grasses like purple moor-grass 'Moorhexe' and miscanthus varieties were repeated throughout the scheme at Dursdale. In a private garden, plant singly rather than in overbearing groups, and carefully because with limited space grass can overtake. Arrange plants tall to small, starting simply with attractive combinations with those prepositions in mind. At a glance, one particularly striking composition at Durslade included pink sedum, purple moor-grass, globe thistle 'Taplow Blue' and underneath as ground cover, hairy canary clover (Lotus hirsutus). There were prepositions and superlatives planted everywhere at Oudolf Field. If you can't make it to Somerset, buy the book and grow your own.