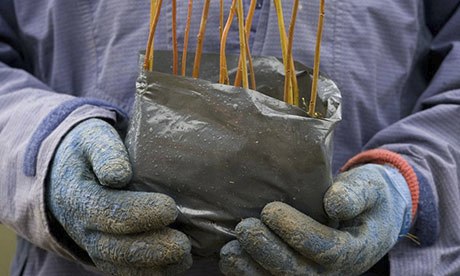 Tree saplings ready for planting. Photograph: blickwinkel /Alamy
Last week I spent the day with 200 11-year olds, helping them plant as many trees in the grounds of their school. Most of the kids had never planted a tree before, and many didn't hesitate in telling me how "boring" and "pointless" the exercise was.
And yet, in assembly later on, the majority listed planting trees as the highlight of their day. So what had changed? I think it was a case of "don't knock it until you've tried it". It was freezing cold, many of the kids turned up without a coat and some, sadly, had never experienced nature before. With every group of 10 pupils, each one clutching a brown stick (which I promised wasn't dead and would one day turn into an actual tree), I asked: "who wants to dig the first hole?". Suddenly this boring and pointless exercise had become a little more interesting.
Last month saw the launch of the UK's biggest ever campaign to reconnect children with nature. Created by The Wild Network in conjunction with the documentary film Project Wild Thing, the campaign aims to encourage children to swap just 30 minutes of screen time for "wild time" every day, in order to increase levels of physical activity and alertness, and improve their well-being. You can watch the film online here.
I thought of this campaign, as I watched each child plant his or her tree. Some of the kids marked the spot where their tree grew, in order to return and watch it mature over the next five years (seven if they stay on in the sixth form). Others asked questions about the species they were planting, or wanted to do all the digging. A few didn't want to touch the soil and were terrified of worms (you can't win them all).
The trees were native saplings including silver birch, rowan, hawthorn and blackthorn, and had been donated by the Woodland Trust. They were planted as a hedge at the edge of the playing field, and will one day block out the view of the nearby road, while providing a fantastic habitat for wildlife.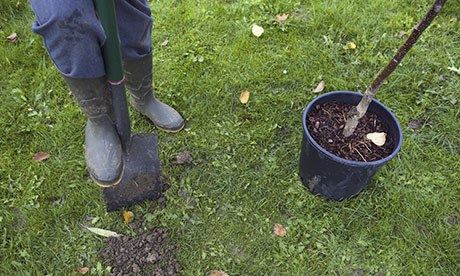 Photograph: Stephen Shepherd/Gettfa


Native trees attract more wildlife than non-natives simply because they have been here longer – they have evolved together. Caterpillars of many moths feed on the leaves of native trees – some are fussy and specialise in just one or two species, while others eat from a much broader range. Aphids and other insects are also attracted to the trees and, eventually, deadwood specialists such as beetles will move in. The more critters a tree attracts, the more birds will visit to feed themselves and their young. And, as the hedge matures, it will provide nesting opportunities for birds and mammals, not to mention a good source of autumn berries.
I hope that, as these trees grow and provide habitats for wildlife, the pupils that planted them will remember their 30 minutes of wild time, and enjoy watching the landscape change. Now they know first-hand that planting trees isn't as boring and pointless as they had first thought, maybe they'll be encouraged to get out and see a little more of what nature has to offer them.