It was not by choice I found myself standing in a delightful little garden centre last week. Caught in a lashing hailstorm, I followed my friend Sarah's suggestion of "quick, let's duck in here" and before I knew it I was face to face with what I've been actively avoiding for some time now.
It was a friendly little family-run garden centre, just the sort of place that I would buy from if I wasn't sworn off spending anything on gardening stuff. As the warmth (and feeling) slowly returned to my weather-battered body, I began to take in row upon row of gardening instruments, gadgets and other gardening delights. I trailed after Sarah as she made a dash for the seed potatoes which were temptingly displayed in a line of crisp brown sacks – the tubers poking out the top for all to see.
I thought about my own little stash of 'Anya' and 'Orla' new potatoes which I've been growing and saving for the past three years, and checked myself to see how I felt about the wide choice on display in front (and all around) me … was I tempted at all?
I didn't seem to be, but I was curious. I decided to browse the entire shop just to make sure there wasn't anything I'd really like to have. I was pleasantly surprised to find that I experienced no temptation whatsoever. There was nothing I needed and actually, the thought of some forthcoming swapsies at a "seedy Sunday" event appealed much more. (You can find the nearest seed swap event here.)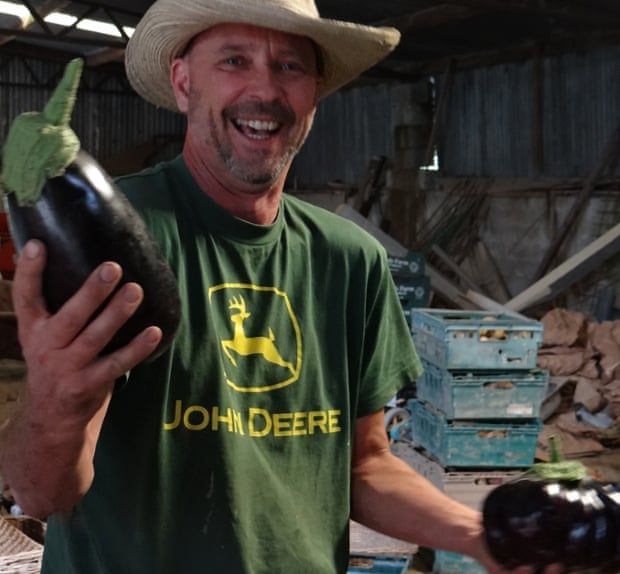 That said – this all got me thinking. Now I'm into the swing of the basics of gardening for free (compost, leaf mould and seed saving) I know I can maintain a healthy soil, and that when I plant seed it will germinate (almost always). So I have scope to get a lot more adventurous with what (and how) I grow and that is a lot more exciting that anything I could buy.
One vegetable I've never had much success with and yet love to eat is aubergine. So to improve my efforts I called in on Nathan Richards at Troed y Rhiw farm, organic growers in Ceredigion, Wales. They produce the most enormous aubergines I have ever seen so are well placed to point me in the right direction.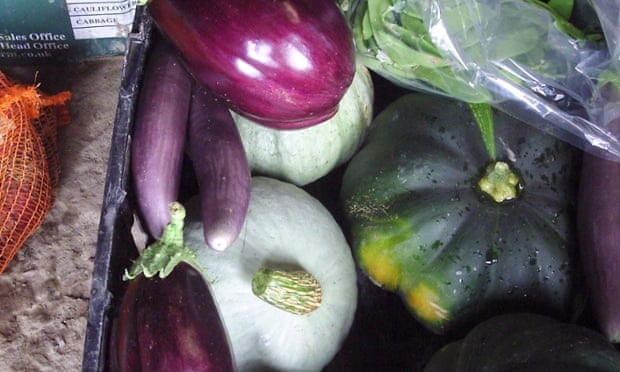 Like peppers and chillies, the aubergine (aka eggplant) needs a long growing season, so Nathan germinates his seeds around mid-February. As the young plants need to be kept warm – this could mean they'll have upwards of 400 cluttered about their bedroom during a cold snap. They really do love their aubergines…
For us non-commercial growers however, we could just use a heated propagator or airing cupboard to germinate the seeds any time from now, keeping a small number of young plants inside to protect them from the cold.
Aubergines demand to be in a warm and sunny spot, so Nathan grows them in polytunnels. He recommends that some kind of greenhouse or large-enough cloche would be useful to help boost results – although bear in mind they should grow to waist height, and pollinating insects must be able to get to the plants if they are to fruit.
I also think a sunny, sheltered spot outside could work well, although they don't like getting too wet. I know the feeling. It's advisable to water them from below, so this is another reason why some form of protection can help. They don't pinch out their plants at Troed Y Rhiw Farm as it would take too long. I was also delighted to hear that they don't use fertiliser of any kind other than maybe a bit of comfrey tea and still get fantastic, high yielding results because their soil is so fertile. That sounds like my type of growing.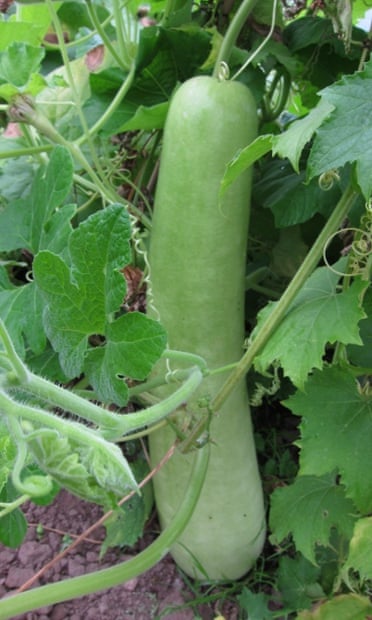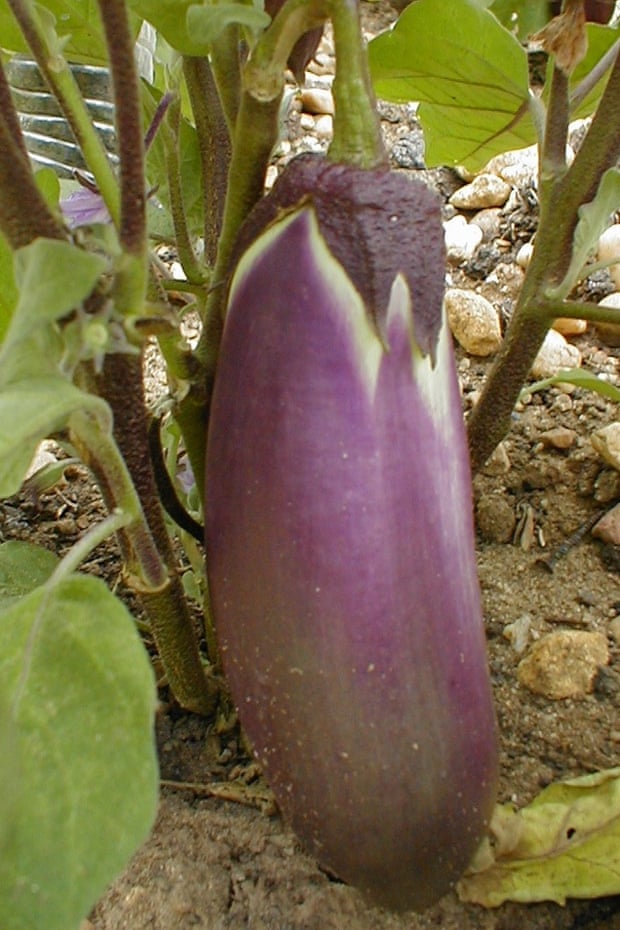 Feeling ambitious; I decided to contact the Heritage Seed Library to see what they could challenge me (as a seed guardian) to grow and save for them this year. Aubergine-wise they have 'Szechuan' and 'Turkish Orange', while an edible Indian gourd called dudhi sounds interesting, and has a lot of reputed health benefits. Their version is named after the man who introduced it to the library – thanks Mo Sayed.
Then there's the fantastically multi-coloured 'Rainbow Sweet Inca' sweetcorn, which I'm going to have a stab at saving – despite stating categorically before that it couldn't be done. Apparently I may be able to get away with collecting viable(ish) seed from "just" 20 plants, so we shall see.
I don't care anymore what the weather's doing outside because all this planning has given me a distinctly warm feeling where it counts.
If there's anything in particular you'd like me to investigate in my blog this year then I'd love to hear your ideas.