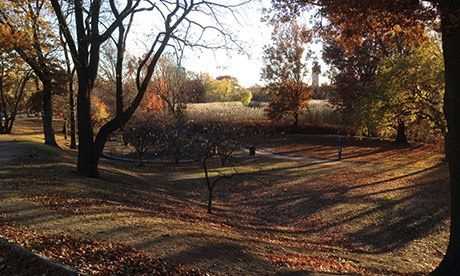 A scene from Boston's leafy parks. Photograph: Tom Hoblyn
Thursday
Flew to Boston to attend the annual conference of the American Society of Landscape Architects. A British contingent made up of Italian Terrace, Gaze Burvill, David Harber and Alitex are out there with a mission to introduce their lovely things to the Americans, and I am there as a kind of horticultural ambassador.
Friday
It's all hands on deck setting up the show stand at the conference centre. Each company sent their work out to the US weeks before and the crates needed unpacking and putting on display, similar to a mini-Chelsea Flower show stand. We had also arranged to get plants from a local nursery to plant in the Italian Terrace pots to further beautify the exhibit. By lunchtime it was looking pretty amazing.
We all headed over to the British consulate for the afternoon to create a similar display and host a tea party for any garden-centric Bostonians. Some of us had managed to smuggle Cornish clotted cream into the US and so the tea party became Boston cream tea party; thus avoiding any confusion with other tea parties, historical or political. More than 90 enthusiastic people came, from landscape architects to garden groups, all of whom were very interested in what we had to offer. I spoke to the Beacon Hill garden group who had recently raised over $70,000 for charity with their open garden day. And we thought our £670 village open gardens was a coup.
Saturday
Jet lag working in our favour, as we had an early start back at the conference hall for some last minute tidying up of the exhibit. At 9am, the doors were flung open with hoards of landscape architects keen to see what was on offer.
In the US all landscape architects must carry out continual professional development in order to stay qualified to practice. They gain a set number of points by attending lectures at ASLA events. I had been asked to moderate one such workshop entitled The Art and Science of Designing Native Landscapes. The speakers were Eric Groft of Oheme Van Sweden and Associates, landscape architect Larry Weaner and Professor Jean Marie Hartman of Rutgers University.
An impressive 300+ people attended to hear the importance of ecological science knowledge when designing wild landscapes. For example, tailoring a perfect species mix for a specific site in order to gain a quick establishment to prevent a weed population taking hold. The main message was: read and understand what is going on in the landscape before designing a scheme. The secondary message was: scientists and designers, don't be afraid to collaborate to ensure success.
Sunday
My turn to give a workshop on the Making of a Show Garden, a behind the scenes at Chelsea talk on exhibiting at an RHS show. From conversations afterwards, it seems that there are many flower shows in the US but none like ours. They are confounded by often being held indoors at funny times of year; the Philadelphia flower show being the most famous. Sadly they're hidebound by the stranglehold the unions have at the venue. Hearing how you are not allowed to carry out any manual work on your pitch personally – down to plugging in a light – without appropriate paperwork and union labour makes one weep.
After my lecture, there was time to meet fellow exhibitors at the conference and I spent most of my time talking to the nurseries. There are a number of plants I want to try here in the UK to see how they perform: Panicum virgatum 'Northwind' is an upright switchgrass that is meant to be persistent right into the winter. Also in the upright department is a Schizachyrium 'Standing Ovation' that colours up beautifully in autumn.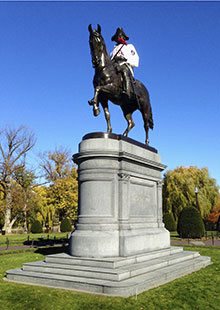 A statue of George Washington sporting Red Sox kit. Photograph: Tom Hoblyn


Monday
Spent the morning breaking down the stand and packing it into crates to be shipped back to the UK. All four companies have had a lot of positive enquiries that will hopefully translate into actual orders. Mind you, they already have an established following, as demand for luxury British garden products is high.
My evening flight allowed me plenty of time to explore Boston's leafy parks, collectively known as the Emerald Necklace. Being a keen oak enthusiast, Simon Burvill of Gaze Burvill tagged along. A late autumn meant there was still some great colour, and the afternoon's low light really showed it off to its best.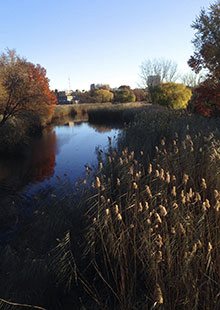 Norfolk reed (Phragmites australis) growing in the Back Bay Fens in Boston. Photograph: Tom Hoblyn


Boston Common had a beautiful stand of weeping willows (Salix alba 'Tristis') and swamp cypress (Taxodium distichum). Rather amusingly, the statue of George Washington was sporting Red Sox kit in support of their recent World Series success.
The Back Bay Fens are just about to be restored to help cope with storm water. Part of the problem is the introduction of our Norfolk reed (Phragmites australis) that has grown to plague proportions and is choking the waterways. Never before have I seen such tall reeds; well in excess of 3m – just goes to show the importance of not introducing invasive species.
Talking of invasive species, it's now time for us lot to return to UK. I'll miss this city where I quickly came to feel at home. Go Red Sox!

• Thomas Hoblyn is a landscape and garden designer. This is the latest in a series of posts on the ups and downs of a life spent creating beautiful gardens.