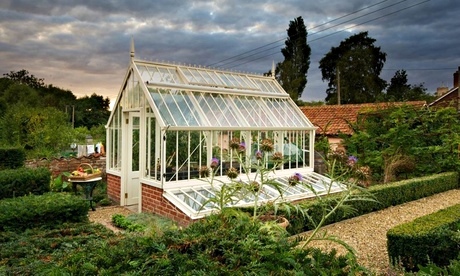 Spick and span: Tom's garden all ready for Bardwell Open Gardens. Photograph: Tom Hoblyn
Saturday
Tomorrow is the Bardwell Open Gardens day, with all proceeds going to the church. There is mad panic as we all try to make the garden look presentable. Not having done Chelsea this year has allowed for preparation, and the vegetable garden is actually looking quite good. However, there was much plumping of cushions to be done and the day was spent sweeping, raking and mowing. Hoses were put away, roses deadheaded and beds hoed. All in all, not too bad – even the herbaceous peonies were still blooming.
Sunday
We were on cream tea duties, allowing for plenty of conversation with visitors while spooning clotted cream onto plates. There are people out there whose every weekend is spent attending village open garden days throughout East Anglia and beyond, and very expert they are too.
Monday
Our latest recruit started today. I have been short-staffed for a long time and have been juggling freelancers to cope with the hefty workload. I'm convinced the shortage of people going into the landscape industry is down to low starting salaries, making it impossible to pay off student loans quickly.
My assistant Ros has been doing her masters in landscape architecture at Writtle University. At her degree show she introduced me to fellow graduate Daisy and now here we are a few weeks later with a full compliment of staff.
Tuesday
It seems that York stone doesn't have to be from York in a kind of cheddar-cheese-that's-not-from-Cheddar type way. A few weeks ago we sent a specification document to suppliers describing our York paving requirements for the Oaksmere Hotel project. Speed was of the essence and one supplier was able to deliver quite quickly; subsequently a deal was made after seeing images of the stone.
The most beautiful, uniformly buff-coloured stone arrived and the laying of paving began in earnest. I soon got a phone call informing me the stone was quite soft and was chipping all too easily. I asked the supplier for a data sheet that would tell me the hardness of the stone, density and quarry source. It wasn't York stone at all: it was called Huddersfield stone and what's more, it wasn't even from the UK, let alone Yorkshire. The person signing for it must have thought that Huddersfield was a York stone, being in the same county? What the client was lumbered with was £18,000 of stone so soft you can mark it with a fingernail. Not a very practical material for a hotel terrace.
The supplier is refusing to refund the full amount and all sorts of finger pointing ensued, with solicitors about to get involved. Lesson to be learned: always ask for a data sheet to check that what is being offered is the genuine article. It seems pretty bad to start naming inferior materials with Yorkshire-sounding names too. I thought we worked in a decent and honest industry.
Wednesday and Thursday
An invitation to pitch for Chelsea 2015 arrived today from a potential sponsor. After a two year break from doing the show I'm keen to go for it once again. I have been working on an idea for a few months now that I feel would be worth sticking my head above the parapet for. How did I get the invitation? A kind designer who exhibited this year put my name forward and the RHS supported my nomination.
The sponsor included a detailed brief and it is now up to us to make that brief work in a design. Work began immediately as the pitch is next week. We started with some crude clay models to get proportions right and by Thursday evening we had the idea sketched up by hand. More work is needed and I will continue on the weekend. Fortunately, Daisy is a real whizz on InDesign (our presentation software of choice) and will be able to work on this next week.
Friday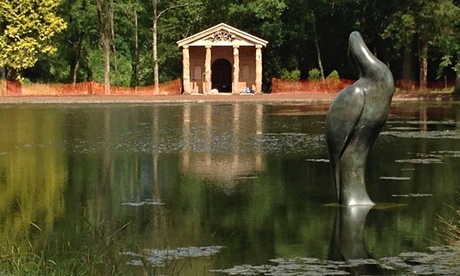 The new temple at Hillersdon House in Devon reflected in the lake. Photograph: Tom Hoblyn


Our monthly visit to Hillersdon House in Devon to check progress on site. After three years, there is light at the end of the tunnel with much of the landscape works nearing completion. We are the point of checking materials and making sure works have been done to our specification. The problem is that our drawings were done three years ago and the project has evolved somewhat.
For example, we had originally allowed for a gravel terrace at the front of the house – mainly for economic reasons as we were designing to a very fixed budget. But after the client saw it, an upgrade to York paving was required. The builders have started laying this and we need to determine a suitable mortar for the joints.
This project has not been without some pain over the last three years; the wet winters have caused havoc and delays. The house has understandably taken precedence in attention and budget and this has made our job sometimes frustrating. But seeing things like the new temple reflected in the recently restored lake in the bright sunshine, reminds me that this has been the most beautiful and rewarding project I have ever worked on.
• Thomas Hoblyn is a landscape and garden designer. This is the latest in a series of posts on the ups and downs of a life spent creating beautiful gardens.