I am not a great fan of winter gardens, with their dogwoods and heathers, so have instead plumped for a grove of filberts under which to grow snowdrops and other winter bulbs. A regular planting of six varieties in rows of five each seemed to be in keeping with the productive nature of the walled garden ( filberts are a productive type of hazelnut), while complementing the garden's rectangular layout. Additionally, I have a particular soft-spot for the nuttery at Sissinghurst, so was keen to replicate something of it, here at Flete, the walled garden I am restoring in Devon.
Planted just three or four years ago, our hazels have grown dramatically fast, revelling in the deep rich soils that have developed following decades of double digging and manuring. Now, light and airy in winter, yet providing dappled shade in summer, they provide ideal conditions for a first love of mine, snowdrops.
With 2,500 named varieties now selected, it can be difficult to separate the very best from the many undistinguished varieties out there. For what it is worth, the following are snowdrops that are giving me an abundance of pleasure at the moment, so you won't go far wrong searching out any of these worthwhile varieties. Scroll to the bottom of the list for planting advice.
1. 'EA Bowles'. In case you haven't looked closely, snowdrop flowers typically comprise three pure white outer petals that encircle shorter, inner petals that are both notched and bear one or two bold green marks. Very occasionally, aberrations occur where all six petals resemble the pure white outers – so-called poculiforms – and few are as beautiful as the variety 'E.A.Bowles', found in recent years at Myddleton House, home of the eponymous galanthophile. This variety bears large, shouldered and globular flowers that are flawless in both shape and virginal whiteness. Still rather pricey, the variety has performed extremely well in gardens, so it should not be too long before it sells for more manageable sums of money.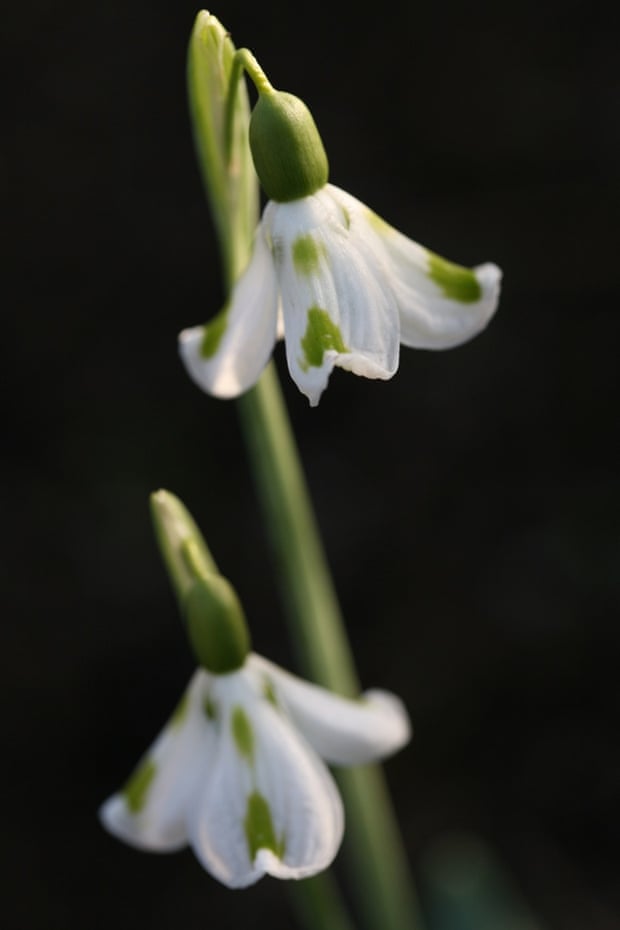 2. 'Trimmer'. If poculiform snowdrops are ones where all six petals have become uniformly large and pure white, then inverse poculiform ones are those where all six petals look like the inner, green-marked flower segments: at first glance as if all the outer petals have been yanked off. For decades, the most celebrated of these was a variety called 'Trym', for which demand has usually outstripped supply. However, like some over-sexed farrowing sow, 'Trym' has proved an extraordinarily good mother, producing a vast diversity of offspring that share its same strange, green-marked outer petals. As a result, dozens of new hybrids have been named, but few have given me such pleasure as a Welsh hybrid, 'Trimmer'. This produces dainty, if squat, tricorne shaped flowers, on pert upright stems above neat, broad and silvered leaves: "three little maids from school are we …" was the first thought of one snowdrop forumist on seeing a small group of flowering plants of this variety.
3. 'Fly Fishing'. Most snowdrops have an indefinable elegance, which is in part why they are so widely loved. But a few varieties are especially graceful, for the flowers are held on extra-long, arching pedicels that make the blooms dance in the slightest of breezes. For decades, 'Magnet' has been justly popular, but recently new varieties have reached a limited audience, and few are more graceful than 'Fly Fishing', an early-mid flowering variety with medium to large flowers and whose broad leaves betray its origins from the giant snowdrop G. elwesii. It soon forms a healthy clump in the garden, and in form its dancing flowers bear something of a resemblance to the Angel's fishing rods, Dierama pulcherrimum.
4. 'Priscilla Bacon'. I freely admit that I have fallen head over heels in love with 'Priscilla Bacon' this year. She is a squat thing, with an oversized globular flower that is strongly puckered, atop neat, short foliage. At first sight, she reminds me of the ever-popular variety 'Augustus', though she originated in the garden at Raveningham in East Anglia, and is named after the late mother of our current President of the Royal Horticultural Society, Sir Nicholas Bacon. Rather new to cultivation, all signs are that this snowdrop increases freely and is easily grown in the garden, and she seems destined to prove a truly popular variety in gardens in the decades to come.
5. 'Ailwyn'. The double form of the common snowdrop (Galanthus nivalis) makes grand displays in many a park and garden, but the individual flowers do not merit close attention, for generally they are an ugly rag-tag of ill-shaped petals. But when this fertile double comes in contact with other species, something of a miracle often takes place, for its hybrid offspring can be things of exquisite beauty. 'Ailwyn', a chance hybrid seedling with the giant snowdrop G. elwesii, is one such plant, and for me remains perhaps the most perfect of doubles. Discovered at Anglesey Abbey, home of so many fine snowdrops, it is named after its former owner, Lord Fairhaven, and is indeed perfection itself: three rounded outer petals encircle a perfect hemisphere of tightly packed petals. A vigorous grower, it soon forms a fine clump in the garden, and is now becoming more freely available.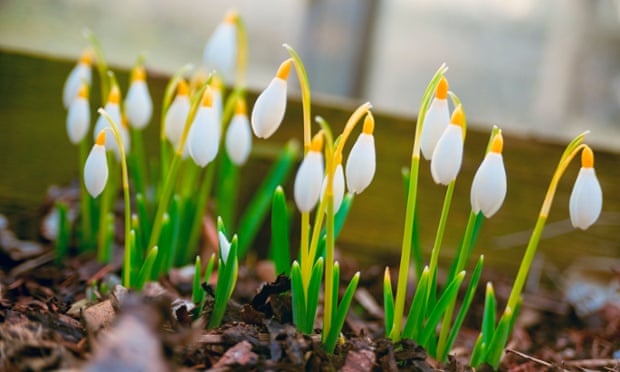 6. 'Bill Clarke'. Yellow snowdrops are always popular, but not always so very easy to grow. Northumberland has been famed over the centuries for its yellow forms of the common snowdrop, but it is from the "hills" to the south of Cambridge that many of the best known lutescent forms of the Crimean snowdrop (G. plicatus) herald from. Best known is 'Wendy's Gold', a variety found as long ago as 1974, and infamous inasmuch the bulk of the bulbs were sold at an exorbitant price to a Dutch bulb grower, who lost the lot to disease. Subsequent discoveries have included 'Bill Clarke', and for me this is the best coloured of the Cambridge yellows, both its marks and ovary a glowing egg-yolk yellow.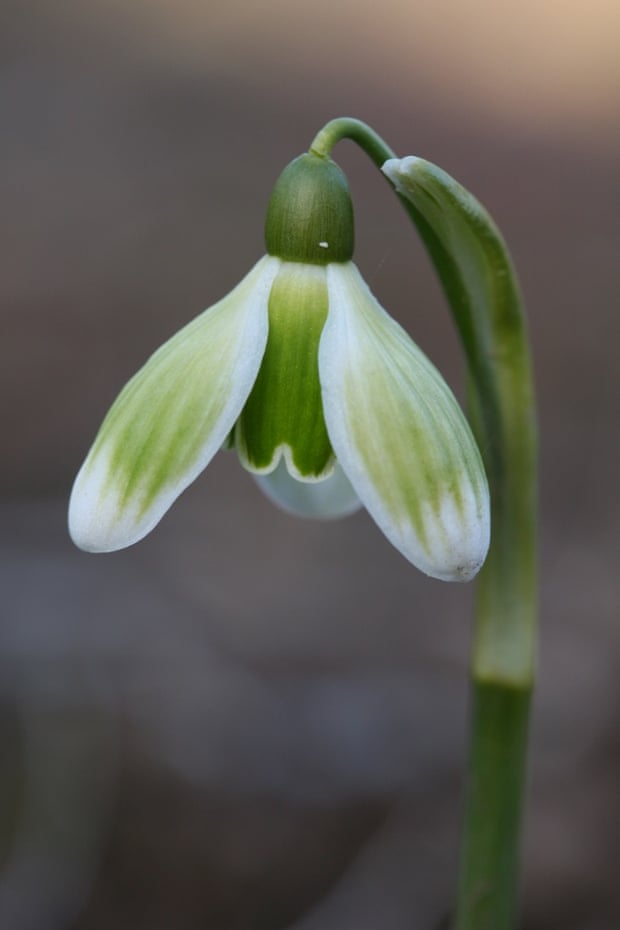 7. 'Green Tear'. "Life is infinitely stranger than anything which the mind of man could invent" so Sherlock Holmes said to sidekick Watson, and no case more so than that of the snowdrop 'Green Tear'. Through the month of February during the past two years, single bulbs have fetched roughly £200 for its discoverer, night-in, night-out – kerching! – dispelling any idea that extreme galanthophilia was the preserve of just a few nerds. 'Green Tear' is just a plain common snowdrop, but with one significant difference: the whole flower, both "inners" and "outers", is heavily washed in rich lime-green. This treasure does have one fault – against other green things in the garden, it rather disappears, blending into the background. So it is a plant to purposefully point out to your gardening guests, encouraging them to get down and dirty in order to admire its undoubted beauty close to.
8. 'Louise Ann Bromley'. The western Turkish snowdrop G. elwesii has long been referred to as the giant snowdrop for it is the largest natural species, in overall height, in leaf width, and flower length. 'Louise Ann Bromley', found in national collection holder David Bromley's garden, boasts having the largest flowers of all, measuring in at over 5 cm when well grown. Put simply, it is a fine and preposterously large snowdrop, though newer findlings are snapping at its heels as possibly larger contenders still.
9. 'Godfrey Owen'. At the time of its introduction to the snowdrop world in 2001, galanthophiles could talk about little else other than the variety 'Godfrey Owen', found by that late and great Shropshire plantswoman Margaret Owen, and named after her husband. This is a dainty variety of G. elwesii, unique on account of its perfectly formed flowers that bear twice the usual number of petals – in other words, six outer and six inner petals. These open very widely when mature, each like a dainty white parasol, creating a graceful plant of exceptional beauty. The wonders of twin-scaling – whereby bulbs are surgically-divided into a multitude of small slivers and grown on in relatively sterile conditions, allowing increased rates of propagation – has allowed the wide distribution of this exquisite plant, and it is now widely available at a respectable price.
10. 'Greenfinch'. It would be difficult to fault the green tipped variety 'Viridapice', a lusty-growing variety of the common snowdrop that has been doing the rounds for one hundred years, and can, today, be bought for mere pennies. However, if you want to try one of newer and smarter green-tipped varieties, then 'Greenfinch' may be for you. This is a hybrid of the Crimean snowdrop G. plicatus, with neat grey-green foliage and a tidy, upright habitat. The squat, medium-sized flowers are so heavily tipped in green that the tip of the flower has something of a pinched look, like the pouting lips of a prudish person. An altogether unmistakable and attractive variety.
How to grow
The few snowdrops that I have planted here in years past have done well with little or no attention, so I have been planting out many more over the past few days. Snowdrops prosper in well-dug ground, and will thrive on almost any soil, although avoid the thinnest, most acidic sands. I like to plant them deeply – four to six inches down – wherever possible planting small groups of two or three bulbs each, six or more inches apart.
If you are planting lots of a particular variety, do vary the spacing, otherwise they can look a tad unnatural, even in a garden setting. And contrary to what you may read, snowdrops will prosper if moved "in the green" (ie while in growth), but it is essential to break as few roots as possible, and make sure that the bulbs, roots or leaves do not dry out during the process.
Wrap the roots in moistened kitchen towel if moving them any distance, keep them out of sunshine or drying breezes while bare-rooted, and water the replanted bulbs as soon as possible after planting. Follow these instructions and your new acquisitions should flower perfectly well the following year. Finally, an annual top dress with a sprinkle of bonemeal and a good organic mulch when dormant will keep soil and plants alike in good heart, giving years of pleasure.
• Andy Byfield is a founder of the wild plant charity Plantlife, is writing a book on plants and landscape, and tussles with two acres of walled garden in south Devon.