I was working recently on a piece for Amateur Gardening magazine about plants with names suited to special occasions. You know, 'Golden Wedding' rose, that sort of thing. There are plants for birthdays, plants for anniversaries, plants for retirements and… and, it turns out, plants for bereavements.
So, when your beloved terrier or retriever finally passes away, you can plant a rose called 'In Memory of My Dog' on its grave. Yes, really! And if yours is a cat household, there's 'In Memory of My Cat'. No sign yet of roses called 'In Memory Of My Goldfish' or 'In Memory Of My Stick Insect' let alone 'In Memory of My Waistline' or 'In Memory Of My Bank Balance'.
I love the oddities of plant names and nothing beats the communist lilacs, with names like '40th Anniversary Of The Communist Youth League'. But looking through the new plants that are being introduced this year, there are some interesting curiosities amongst the names.
There's a new abutilon rather oddly called 'Eric's Wotsit' and a clivia called, yes, 'Sweet Undress'… hmmm. Of course, as usual, daylilies and hostas excel with 'Romeo is Bleeding' and 'Spoons for Escargot' daylilies along with 'Tokyo Smog' and 'Rosedale Tractor Seat' hostas. And many will be horrified by the pulmonaria called 'Spotted Dick'… (Americans may not know it's a traditional British dessert, spotted with raisins).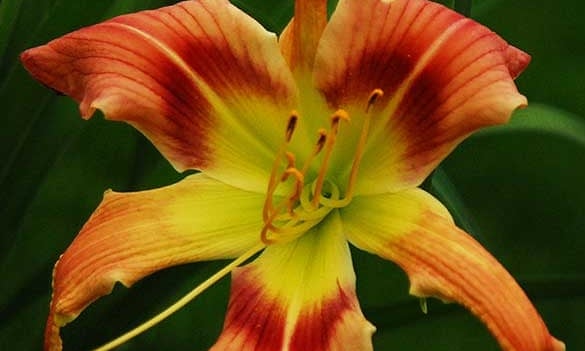 After I posted the original version of all this on my Transatlantic Gardener blog, readers pointed out more weird names. 'Burdung' is descriptive of the blotched foliage of this variety of the British native figwort (and not the province in Tibet where it was discovered, as I was once told!). Food is popular for plant names, there's a hosta called 'Pineapple Upside Down Cake', and a daylily called 'Nekkid Woman Frying Bacon'. And irises are catching up on hostas and daylilies in weirdness stakes, 'Cuz Ur Myon' and 'Comangetit' are just too clever by half. And who'd have known, by the way, that there were fourteen "garden" varieties of stinging nettles – including Urtica dioica 'Dainty Danglers'?
• Graham Rice's Transatlantic Gardener blog, where a version of this post first appeared, is the winner of the 2014 Garden Blog Of The Year Award from the Garden Media Guild. Thank you to Lottah Nursery for use of their lilac image and to Strictly Daylilies for use of their daylily image.