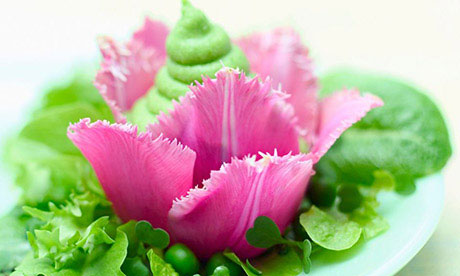 Tulip salad with pea puree and peppermint dressing. Photograph: Bon Appetit/Alamy
The colder, crisper weather heralds the start of the tulip planting season. Verdant green leaves and luscious blooms provide a visual feast early in the year. But tulips are also food for the stomach and their petals make a cool, crisp and colourful addition to the salad bowl. (But note: some people suffer allergic reactions to tulips, so proceed with caution).
Tasting broadly of sweet lettuce but with a peppery kickback, tulip petals range in flavour from grassy – think Romaine – via earthy and and creamy – think butterhead – to bold, hot rocket. Tossed with early salad leaves, also sown now, they are a glamorous, blowsy and dazzling colour bonanza, and all with the crunch of an upright cos.
The best tulips for eating fall into three groups. They are scented; fragrance contributes heavily to flavour, they have bite and texture, breaking and crunching noisily when eaten, and they are beautiful.
Scent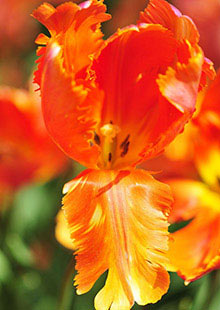 Tulip 'Orange Favourite'. Photograph: Carlo Bollo/Alamy


Single, early tulips tend to be the most scented. They taste like peas with the perfume adding a floral note. 'Couleur Cardinal' is an intense crimson-red single with a plummy sheen and a sweet, fruity fragrance.
Wonderful together in a pot are hot orange 'Veronique Samson', 'Ballerina' and 'Orange Favourite'.
Orange tulips tend to have the most fragrance. 'Veronique Samson' is a flaming orange single with a rose scent. Lily flowered 'Ballerina' smells heady and sweet like sherbet and 'Orange Favourite', which is later and double, smells of freesias. 'City of Vancouver', a late single, has large, creamy petals that taste of violets. With all these tulips the taste is predominantly sweet.
Texture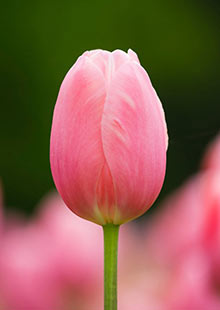 Tulip 'Menton'. Photograph: Alamy


Larger petals have a stiffer texture and more crunch. 'Menton' is a single early with crisp petals and flowers the size of a goose egg that provide an exhilarating snap. The shell pink colour belies a strong spicy kick similar to mizuna or rocket. It has a pleasing brittleness similar to iceberg lettuce.
Double peony and parrot types are more chewy and so can be used coarsely chopped or torn. Intensely velvety 'Rococo' is scarlet-flamed, puckered with bright red and deeply fringed. It has a subtle, fruity fragrance. Use it to make a sultry salad with lamb's lettuce, red cabbage and chicory or roast peppers, squash and pecorino. 'Creme Upstar' is a pale and creamy double peony type. It looks and tastes fantastic with the mixed bright green leaves of oakleaf lettuce, newly emergent sorrel, mint and feta.
Colour
Cool and ethereal or deep and dramatic, colour adds intrigue and excitement and turns a bowl of simple leaves into a showstopping lunch. Try dusky 'Bruine Wimpel' with fresh spinach, pancetta and hazelnuts, or 'Spring Green' with rocket and pea tips.
There is also something to be said for picking and scattering what you are already growing. Fresh, organic and direct from the garden, red tulips are the sweetest. I grow 'Tambour Maitre', a rich red with smoky crimson hue has the sweetness and bite of a little gem lettuce. White are the most spicy, try 'Pax' or 'Purissima' for heat. Yellows such as the elegant 'Sapporo' are sulphurous like broccoli with the unobtrusive bitterness of Reine de Glace lettuce or chicory. The darker purple and near blacks, 'Havran' and 'Jan Reus' share the clear, sweet brightness and the pleasing brittleness of an iceberg lettuce with an initial tang and a sweeter aftertaste.
Salad leaves for winter sowing and picking
The flavour of the leaf varies according to the age of the leaf and the time of year. Cold weather has a sweetening effect, while maturity makes flavour more pronounced.

French sorrel (Rumex acetosa)
Perennial. Sharp citrus and one of the first leaves to appear in spring.
Oakleaf lettuce (Lactuca sativa 'Green Oak')
Cut and come again. Keep picking and it keeps producing juicy apple-green leaves.
Rocket salad (Eruca sativa 'Rocket Salad')
Bolts quickly in the heat, so great for autumn sowing and picking in the spring.
Romaine (Lactuca sativa 'Rouge d'Hiver')
Pleasingly crisp red romaine for picking as a baby leaf.

• Lucy Bellamy is a gardener, plantswoman and freelance writer.