Monday
I attended a wind tunnel workshop at the National Physical Laboratory in Teddington; initially it was something I was dreading, but turned out to be very interesting.
Our commercial project (all very top secret at the moment) is on a very exposed site and the clients have requested we test for wind to determine how the public will fare at certain times of year.
A large scale model of our site and associated landscape had been constructed in preparation for the testing. All of our proposed planting had also been added along with strategically placed wind sensors. The whole model was placed in a wind tunnel and exposed to simulated seasonal winds. Our site coped well in a simulated summer and the public will be able to use the facilities without their sandwiches blowing away. However, additional trees would be needed to extend outdoor dining into spring an autumn. A modeller glued some new trees into my suggested locations and the site was exposed once again. After a few tests, we achieved a perfect scenario for a breeze-free spring through to autumn al fresco dining. Now, about the rain …
The day was made even more enjoyable as I bumped into eminent landscape architect: Eelco Hooftman of Gross Max who was there for similar reasons and the endless gluing of trees allowed for plenty of discussion.
Once open to the public, I promise to show images of this amazing process.
Tuesday
We have been trying to find a gardener for our new project in Surrey. The owners have a fantastic team of people who maintain the grounds, manage the woodland and carry out any building works. But no "plantsperson" as such – someone who can nurture the existing large collection of rare and unusual trees and shrubs but also embrace our new planting schemes.
The response to our advertisement in Horticulture Weekly was very apt in relation to recent laments about people wanting to go into horticulture. Initially, we received an encouraging 30 applicants, but on closer inspection, most were from a garden maintenance background. Luckily we had six well-qualified passionate plants people to choose from and today we interviewed four.
Allowing a two-hour slot for each, we casually walked around the gardens, checking plant knowledge, skills and monitoring enthusiasm. The estate manager, head gardener and housekeeper tagged along to determine who would most harmoniously fit within the team. By the end of the day we had two candidates to put forward to meet the owners for a final decision.
Wednesday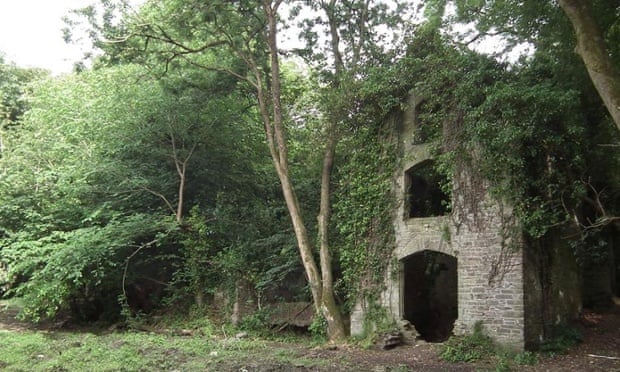 I set off on a short trip to Cornwall to visit my parents and other family members. One of my distant cousins Charlie has acquired an ancestral estate: Fir Hill in Cornwall to which I have self-appointed myself as landscape advisor. It was once a source of media interest owing to the lack of a rightful heir, but all resolved now thankfully.
Though very dilapidated, Charlie's mission is to begin a selective restoration process, beginning with ground works and clearance. Neglect from previous generations has not been kind and much of what was once a grand Cornish estate of historical significance with possible Repton-designed grounds, now lie in ruins. Charlie is looking at various business scenarios to see if he can get the estate to start earning some money to help fuel the restoration process. Unfortunately, council cutbacks in Cornwall have hindered progress: though willing, the diminished archaeological department are unable to devote attention and support to the project. The matter is further exacerbated by thousands of self-seeded sycamores that are destroying the archaeological remains and outcompeting what is left of the 250-year-old ornamental trees.
Since my last visit, Charlie has been busy tidying up the place with a brilliant team of keen people including gardener Wendy Sweet. As areas are cleared of brambles, laurel and nettles, Wendy is salvaging any surviving remnants of planting to be re-introduced at a later stage. It's amazing how a little bit of light will allow the resurrection of plants. I expect that next spring will be really interesting to see what will pop up next.
It was a great day: for the first time one could really start to make out the estate layout of walled garden, main house, farmhouse etc. We even came across a cold frame with all its metalwork. I am really looking forward to seeing how this progresses and hopefully I will be able to get more involved.
Friday
On my way back up to Suffolk, I popped into Hillersdon House to meet a team of landscapers who are about to turf the formal lawns. The lawn has to be bowling green-perfect, and this requirement has obviously put the wind up the contractors as they wished to discuss their intended methods with me prior to beginning works.
We originally issued a specification that states the standards and methods we wish to be employed for the work. If a contractor wishes to deviate from these, it is best to discuss the matter. In this case, we specified using saved topsoil for the final stages of the lawn. However, a soil test has shown the clay content to be too high and therefore not very free-draining. I approved the importing of a sandier soil, recycled from a recently refurbished football pitch. Our saved soil will be used in the flowerbeds. Unfortunately, as usual there are more costs involved and I soon got a call from the quantity surveyor on my way home.
Saturday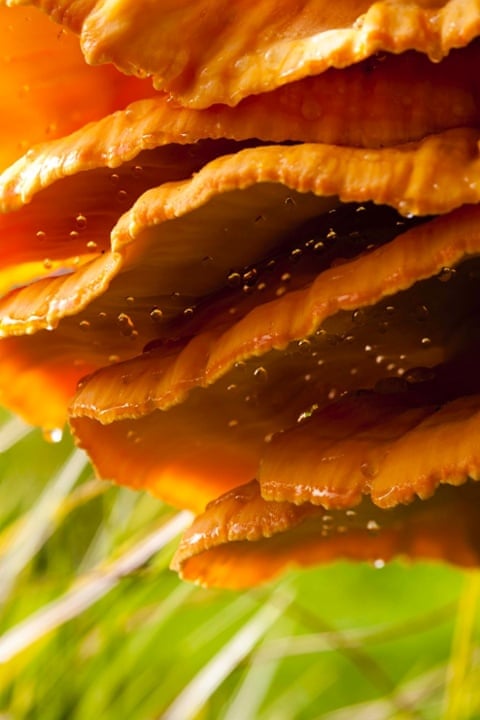 The warm, damp weather has accelerated the usual autumn pests and diseases to plague proportions, mostly of a fungal nature. Powdery mildew has made major inroads on the curcurbits, its off-white mycelial coating quickly colonising the host. Fortunately most of the squash have reached a decent size and frankly, I am getting quite tired of courgettes.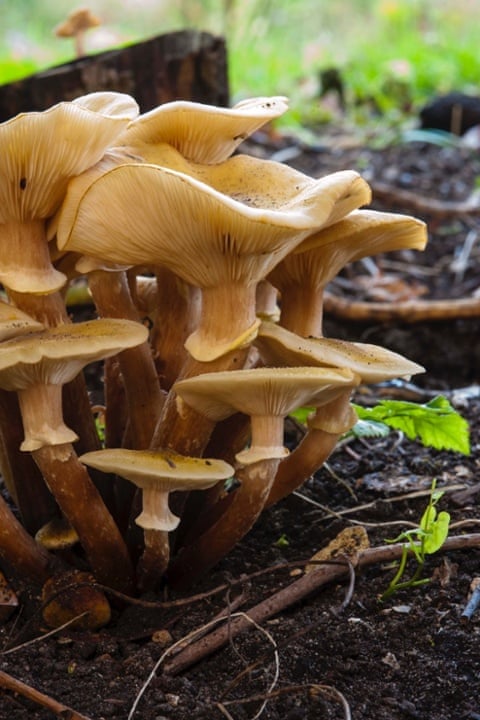 Our wood is mainly alder (Alnus glutinosa) and crack willow (Salix fragilis). The crack willow lives up to its name and sheds large limbs on a regular basis. I tend to cut some for firewood and stack the rest to complete its life cycle. At this time of year the habitat piles burst into life with fruiting fungi all doing their bit to return the tree to the earth. Chicken of the woods (Laetiporus sp.) has been particularly good this year. It is a very striking and beautiful polypore, its tube-like pores oozing with spore-liberating liquid. An old ash stump is now host to an equally amazing fungi that I cannot seem to identify, but would love to know – please get in touch.
Disastrously, the willows that I grow for stem colour beside the pond are being picked off one by one. The obvious culprit is honey fungus, as it is quite literally everywhere. But I suspect it is merely finishing off an already diseased plant, most likely anthracnose. Either way, it is not welcome and will have serious impact in the garden.
Sunday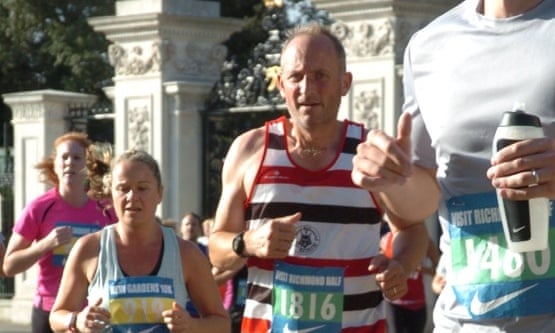 As a student at Kew, part of the initiation process was to run the "clog and apron" race; an ancient and bizarre race whereby you run the 400m Broadwalk clad in the historic gardening garb of apron and wooden clogs. I think I may have come last and could not walk for days. Today I was back in the gardens to run the Kew half marathon. Another Kew graduate was there and we had a brief time before the start reminiscing about our privileged times as students in such a wonderful establishment. Afterwards, and once I had regained enough energy to limp back to the car, I detoured via the School of Horticulture to see where it had all begun.
• Thomas Hoblyn is a landscape and garden designer. This is the latest in a series of posts on the ups and downs of a life spent creating beautiful gardens.