Culver's root (Veronicastrum virginicum 'Fascination')

I first came across this USA native when I worked in the advisory department at RHS Wisley. Walks at lunchtime were always a treat and this imposing hardy perennial was located in the mixed borders – two parallel 6m-deep beds separated by lawn and running for almost 130m. These themselves were pretty breathtaking and the veronicastrum, standing at head height (I'm 157cm tall) reminded me of a fairytale fortress.
The deep green lance-shaped leaves were arranged in neat circular whorls up the stems, and sitting on top were multiple lofty flower spikes, like Rapunzel castle towers, in soft lavender blue. They were often smothered by bees. 'Pink Glow' and 'Album' are two more good varieties, all three flowering late in the season so they pair well with echinaceas and grasses. They're unfussy and will ultimately form a large clump. If you're on light soil just mulch annually and water during summer drought.
Similar in style: Chamaenerion angustifolium 'Album', Galega officinalis, Salvia uliginosa, Sanguisorba canadensis, Actaea racemosa


Helianthus 'Lemon Queen'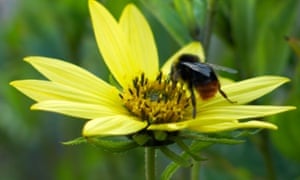 I planted this in a local garden in the spring of 2014, and was amazed how quickly it established in the light, sandy soil. This hardy perennial sunflower is a little like a Jerusalem artichoke in appearance, just smaller in stature and much more floriferous. Each individual bloom is 5cm across, lemon-yellow with a deeper yellow eye – expect flowers from mid-summer right through till the first frosts. The stems are strong, but because this top-heavy plant produces so many flowerheads on each one, it really needs staking. On our light soil it grew to 1.5m in height so on heavier, more fertile plots it's bound to get taller. Give it full sun.
Similar in style: Rudbeckia laciniata 'Herbstsonne'.
Impatiens tinctoria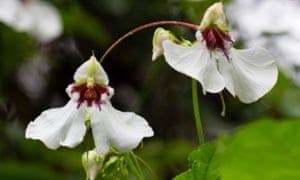 Standing at over 2m in height, this gargantuan tuberous African perennial really is something to look at, but it's tender so you'll need to mollycoddle it a bit. I was introduced to it one sunny morning by Alan Cook, one of the gardeners at Upton House in Poole, Dorset and was totally bowled over. A busy lizzie on steroids, it has beautifully winged pure white flowers 8cm across, with a blood-red throat. They're fragrant, too, especially in the evenings apparently (I visited in the daytime). Treat it like a dahlia, either lifting and overwintering the tubers under glass or, if you're on light soil, leaving them outside with a deep, dry winter mulch. You can take basal cuttings (again, like a dahlia) – Alan gave me some and I'm ashamed to say they'd wilted by the time I got home at the end of the day.
Similar in style: Dahlia imperialis.
Castor oil plant (Ricinus communis)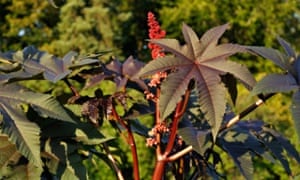 Yes, I know there was/is a kerfuffle about their toxic seeds, but these perennials, grown as annuals, make exciting border plants – especially if you're attempting to establish an exotic, jungle-style theme. Falling into that camp, I presently have 'Impala' and 'New Zealand Purple' in my heated propagator. I soaked the marbled seeds overnight before sowing and cranking up the heat to 22C, and the resulting seven seedlings will need to be fully hardened off before I plant them outside in mid May.
Their huge, glossy maple-like burgundy leaves shine out from the back of a border. Pair them with bananas, cannas and the like, and you're really talking. If you have the room, you can lift them to overwinter somewhere frost-free, but I don't personally know anyone who does this.
Similar in style: Foxglove tree (Paulownia tomentosa) and Catalpa bignonioides 'Aurea' if pollarded, Tetrapanax papyrifer, Fatsia japonica. For smaller gardens, try Persicaria microcephala 'Red Dragon'.
Angel's fishing rod (Dierama pulcherrimum)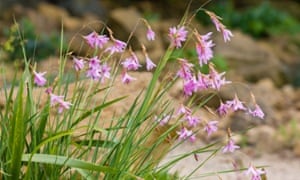 This evergreen perennial seems to perform especially well on my parent's heavy clay soil, I think because it likes ample moisture and their high water table means summer droughts aren't that commonplace. We bought it after seeing a plant overhanging a garden pond, which reflects its common name. It struggled for a few years, but once it got its feet in, it then formed a sizeable clump. You can expect head-height arching spikes of hot-pink tubular flowers. The evergreen leaves can simply be combed through with gloved hands in the spring to remove faded foliage – you might find the odd self-sown clump at the same time. Be warned, we've found that the corms do tempt hungry mice in winter. Half-hardy according to the books, but we overwinter it unprotected on heavy Essex clay with no problems.
Similar in style: Smaller in stature yet just as hot-pink – byzantine gladiolus (Gladiolus communis subsp. byzantinus).
Clary sage (Salvia sclarea var turkestanica)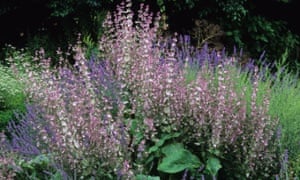 I've got a bit of a thing for silver-leaved plants, and had listed Verbascum bombyciferum, Cynara cardunculus, Melianthus major, Onopordum acanthium and Silybum marianum (green with amazing silver veining) as some of my favourites. But they're pretty well known, whereas this biennial salvia doesn't get much of a mention. I want to flag it up because it's incredibly easy to grow from seed, which is great for those of us on a budget.
I went through an obsessive phase with the Chiltern Seeds catalogue (chilternseeds.co.uk) a few years back, and found this, among other things, as a result. Expect a rosette of large, woolly leaves in year one followed by impressive upright panicles, 1m tall, of two-tone white and lilac-pink flowers with showy bracts in the second. Produces lots of seeds for subsequent sowings and is much loved by bees. Prettier in my mind than the more popular S. argentea. Best in full sun.
Similar in style: Jerusalem sage (Phlomis tuberosa – a perennial).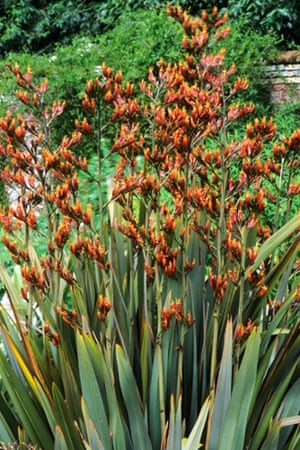 New Zealand flax (Phormium tenax)

I love seeing phormiums in planting schemes – few plants match their broad, strap-like leaves that come in a range of colours and stripes (okay, cordylines, agaves and yuccas do but I prefer clumps, to whorls).
There's a staggering selection available now, from compact 'Bronze Baby' to the lofty P. tenax itself, standing at well over 3m at maturity.
Sun gives the best foliage colour, grit helps heavier soils, and a dry mulch protects in harsh winters.
The only pest problem I've found is mealybug. A friend has it badly on two huge P. tenax 'Purpureum', and because this insect tucks itself in among the folded leaves, it's pretty tricky to control.
We think systemic insecticides will be our only option.
Similar in style: (a bit of a cheat here because they have strap-like leaves but here the similarity ends) Miscanthus sinensis 'Silberfeder' at 2m tall, and Spanish cane (Arundo donax) at 4m in height.
Flowering seakale (Crambe cordifolia)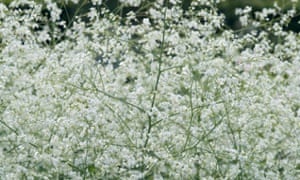 Another stunner that I clocked at RHS Wisley, this time in the Country Garden. Some large perennials are best sited at the back of your border but this one, rightfully, was prominently positioned at the front. The result was a similar transparent effect to that of Verbena bonariensis – but with greater impact. You can expect a low mound of rhubarb-like foliage, upon which sits a huge froth of starry white flowers on leafless, multi-branched stems, 2m tall. Being devoid of foliage, you can see right through the flower spikes, in a dreamy confetti-like haze. Best in full sun in fertile yet well-drained soil. Just bear in mind that this cabbage relative is susceptible to clubroot.
Similar in style: Giant fennel (Ferula communis).
New England aster (Aster novae-angliae)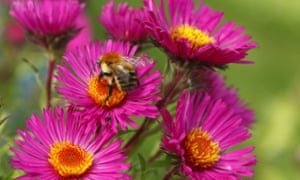 You could be forgiven for thinking that these New England asters are coarse – they're certainly available in an in-your-face range of pinks, purples and blues and the mat of flowers are almost over-generous in number, but my fondness for them was rekindled last autumn when I was working at RHS Hyde Hall. The gardeners there had used them in their sunny tropical borders, placing the head-height varieties close to the back so they were nestling cheek by jowl alongside dogwoods and catalpas – the tiny flowers sitting well among this foliage. Despite their height, the strong stems only need staking in exposed positions and good news – they're much more resistant to powdery mildew than their Michaelmas daisy cousins. Their only weakness is that their stems become bare as they age, which you can hide with lower plantings of other perennials. My favourite would be Rudbeckia fulgida var. deamii.
Similar in style: Hardy chrysanthemums.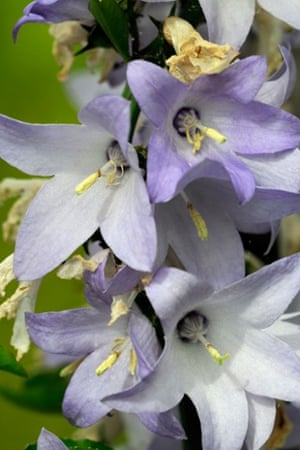 Chimney bellflower (Campanula pyramidalis)
This short-lived hardy perennial is best grown as a biennial because the effort to put on its almighty flowering display can exhausts the plants. It prefers neutral to alkaline soil, and while happier with ample moisture once in full growth, you'll still get a good display – albeit one shorter in height – on drier soils. The bell-shaped blooms are pale lilac; there's a white form – 'Alba'.
Similar in style: This campanula is larger than a delphinium yet smaller than another show-stopper, the tree echium (Echium pininana).